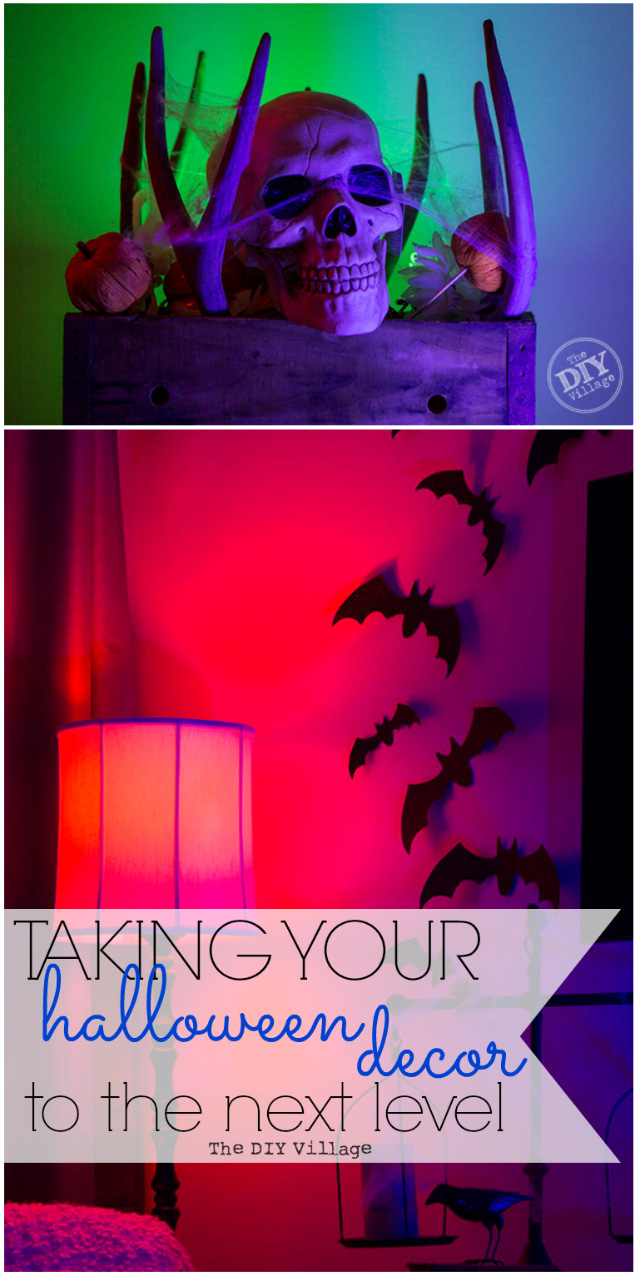 If you haven't been around The DIY Village very long, you may not know that we have a thing for Halloween.  All The Things that is!  You can check them out HERE, HERE, HERE, HERE, HERE, HERE, and HERE; just to name a few.  (See, I wasn't kidding)

When we moved into our current home 5 years ago, our first question to the realtor was, "Is this a fun Halloween neighborhood?"  Woah Nelly did we hit the jack pot.  Not only is our neighborhood fun on Halloween it is SPECTACULAR! All the children are "Booed" leading up to the festive day, on the big day there is a costume contest. Then there is neighbor Dave and his amazing adult trick or treating house.  He provides food, wine, and beer for any adult making the trek around the hood.  God love neighbor Dave!  Oh! I almost forgot, best of all on Halloween is that it's Jossie's birthday!  How's that for fun?
So yeah, we love Halloween and LOVE to decorate!  My decor is ever changing, but this year, this year is a total game changer.  This year we took our Halloween decor to the next level with the introduction of the Philips Hue.
We have a smart home, adding the Philips Hue into the mix was very natural.  We love these products.  The versatility is unbeatable. For Matt's birthday this year he asked for a starter kit.  He outfitted most of our lamps and we set programs for turning them on and off via our iPhones. As fun as those lights are they are white, which is kinda blah for Halloween.  Enter the Philips Hue White & Color Starter kit. Come to mama!
Some of the amazing products in the Philips Hue are the Philips Hue White and Color Starter kit, 

the Philips Hue Motion Sensor

The Philips Hue Go

and last but certainly not least the Philips Hue Lightstrip Plus

Let's talk about how these work, shall we? The starter kit contains 3 white and color ambiance lights and the Philips Hue Bridge.  The Bridge will be the go between for the Philips Hue app (or in our case the Hue Halloween app) and your lights.  Download the app onto your phone, screw in your lightbulbs, connect the bridge to your router, and sync the bridge to your phone.  It may seem like a lot but the entire process takes less that 10 minutes.
You can learn more about this process and applications of the color lights by visiting MeetHue.com.  While you are there check out all of the Philips Hue products use Promo Code: HueHalloween at checkout between now and October 30, 2016 to receive 15% off all products. ($100 order discount limit and excludes outlet items).  Philips Hue is available for purchase at Amazon.com, Apple Store, Bed Bath & Beyond, Best Buy, Home Depot and MeetHue.com, among other retailers.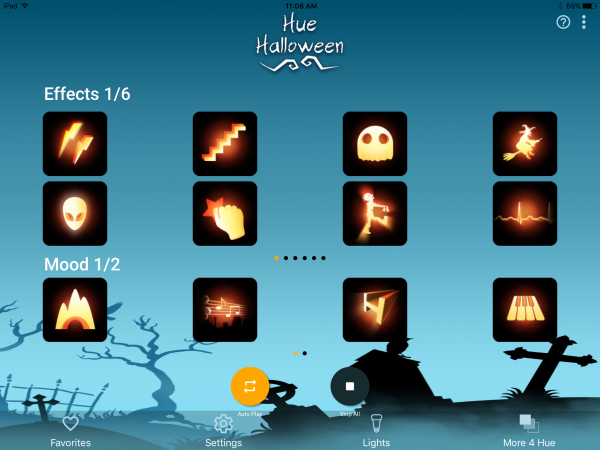 The HueHalloween app has over 6 page of spooky sounds and effects that control your Philips Hue lights via the Philips Bridge, synchronizing sound and light!
The Philips Hue has over 16 million colors.  Did you catch that? Sixteen M I L L I O N!  Not to mention the compatibility with smart home technology like Apple HomeKit with Siri, Amazon Echo, Dot and Tap with Alexa, Google Home and its voice assistant and over 600 third party apps.  For Matt, who has a degree in Technical Theater Design this is all music to his ears.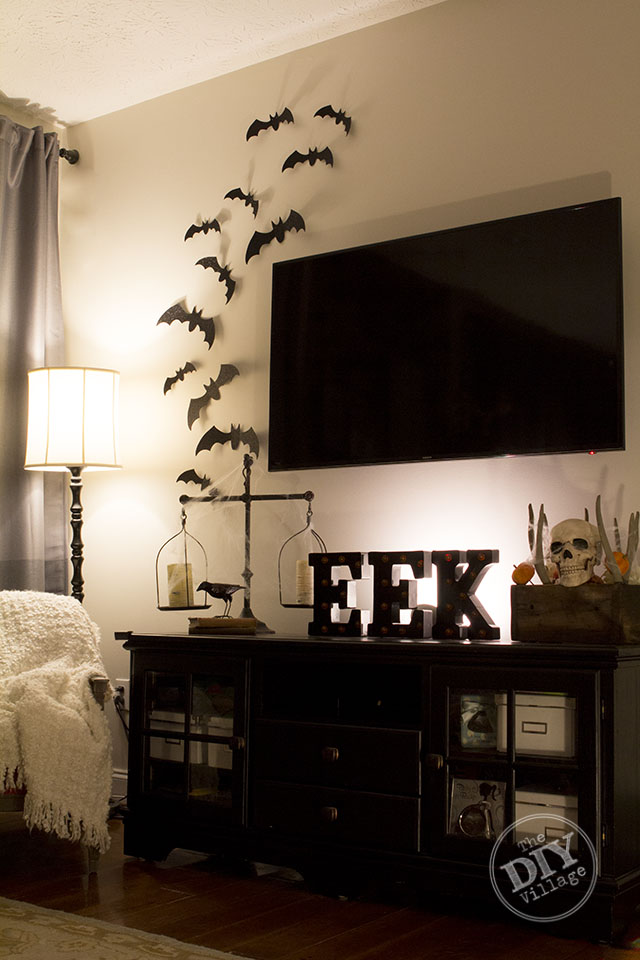 We use our Hue in a number of different ways, including but not limited to everyday use, birthday's, holidays, movie nights, and one of our favorites college football and baseball seasons.  We have been known to have our Philips Hues set up to flash orange when our beloved Tennessee VOLS score on the football field.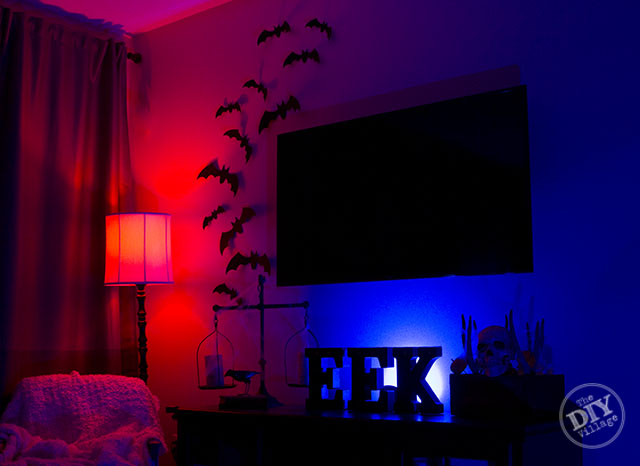 Bringing our Halloween decor to the next level was a breeze with this lighting system.  Matt is able to create a number of patterns and color schemes with the touch of his finger.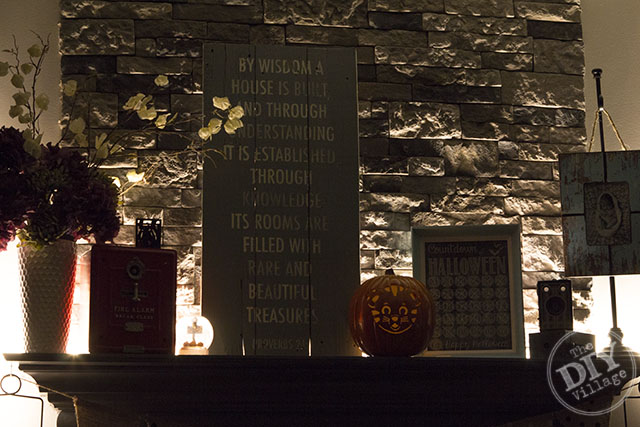 Add drama to our fireplace with the Philips Hue Lightstrip.  The lighting can be subtle or bright.  It's really up to you.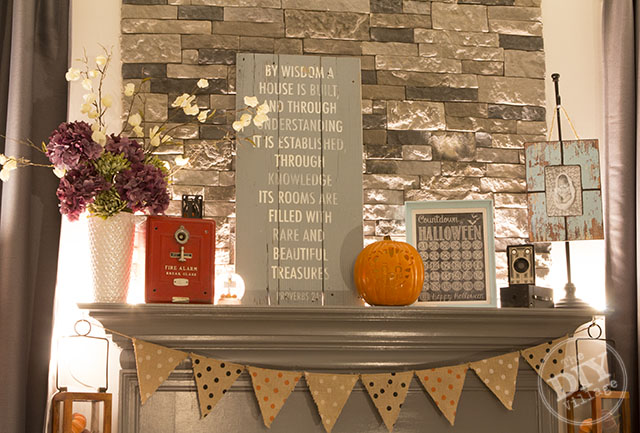 Matt definitely has fun with the lights.  He is like a kid in the candy shop.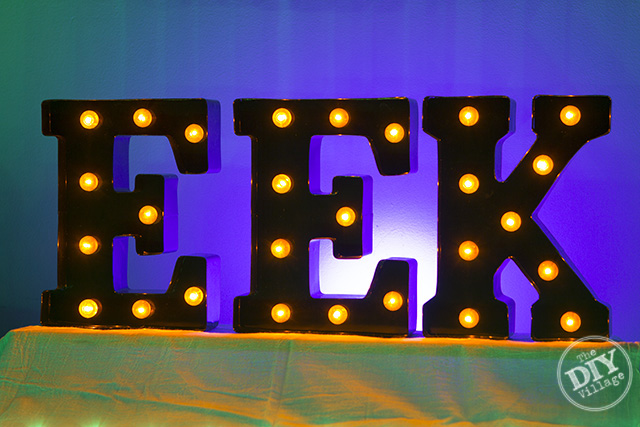 In honor of Elvis …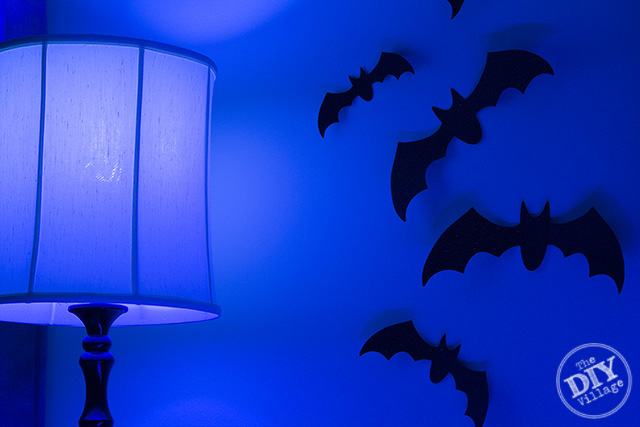 The newest member of our family, "Scully".  He's been dying to be part of our family for a while now!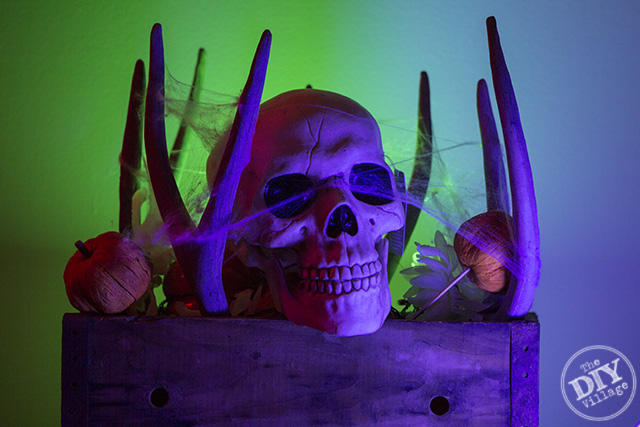 All of this is the inside decor, outside is where the good stuff is going to happen this year. Let's see the Philips Hue lights and the Hue Halloween app in action! If we don't scare the pants off of a few kiddos this year with our motion triggered lights and sound, I will be greatly disappointed!  We plan on setting up or Bose in the front window and the Philips Hue Motion Sensor just at the bottom of our front steps.  Out of sight of course.  When unsuspecting trick or treaters make their first step the motion sensor will trigger not only the lights but the HueHalloween app loaded with creepy sounds.  I'm so ready to get our Spooky on!
To see the the Philips Hue color lights, Bloom, and Go in action with the Hue Halloween app, check out
our video
.  Make sure your sound is turned on for the full effect and enjoy!
Happy Halloween and here's to hoping you have a Spooktacular experience!