When I was pregnant with Paxton I had grand plans of what kind of nursery he would have. And then I told Matt about all my grand plans. With some reasoning on his part, I scaled down my plans and decided to give way to some of his ideas. His idea; plank wall painted like in Little Bits room. My idea; plank wall like in little bits room ADD a book ledge and stained instead of painted. Good news is I won out on that one.
I didn't want Paxton's room to be the typical nursery with baby blue walls and character bedding. My goal was to have a room that can grow with him over the years. You know take down the baby stuff, arg, move onto the big boy phase, and then eventually teen years. Ughh, I can't believe I just said that. He will forever be my baby boy.
This room used to be the guest bedroom and we already love the color, so the color stayed. That was one thing off the list pretty quickly.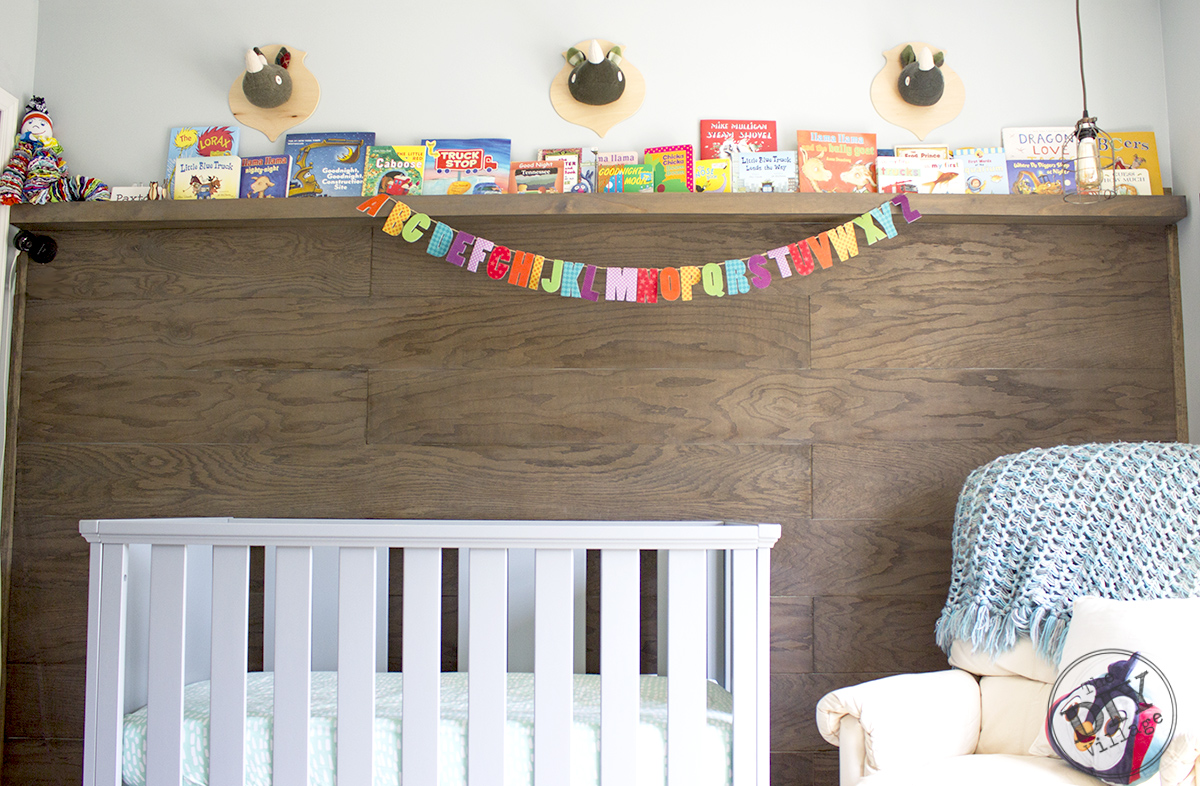 Up next was the plank wall. Matt installed the planks and then one afternoon while little bit napped we stained the wall. There wasn't just one color of stain we liked, so we did a base coat of walnut and then before wiping that off added a coat of weathered gray. You can find those colors HERE & HERE. One day while I was at work he made the giant 11′ book ledge. When I got home we installed the ledge. Well, tried to and the closet trim molding stopped us from getting it up. After a quick trip to the garage to cut the shelf down 3/4″ it was finally in place!
Matt as usual played a very active role in the overall look of this nursery. He found the most adorable wool Rhino mounts to put on the wall. And at $25 for all three, how could I say no? You can find them HERE. Each mount is different, I really can't rave enough about these. I adore them! Good job Matt.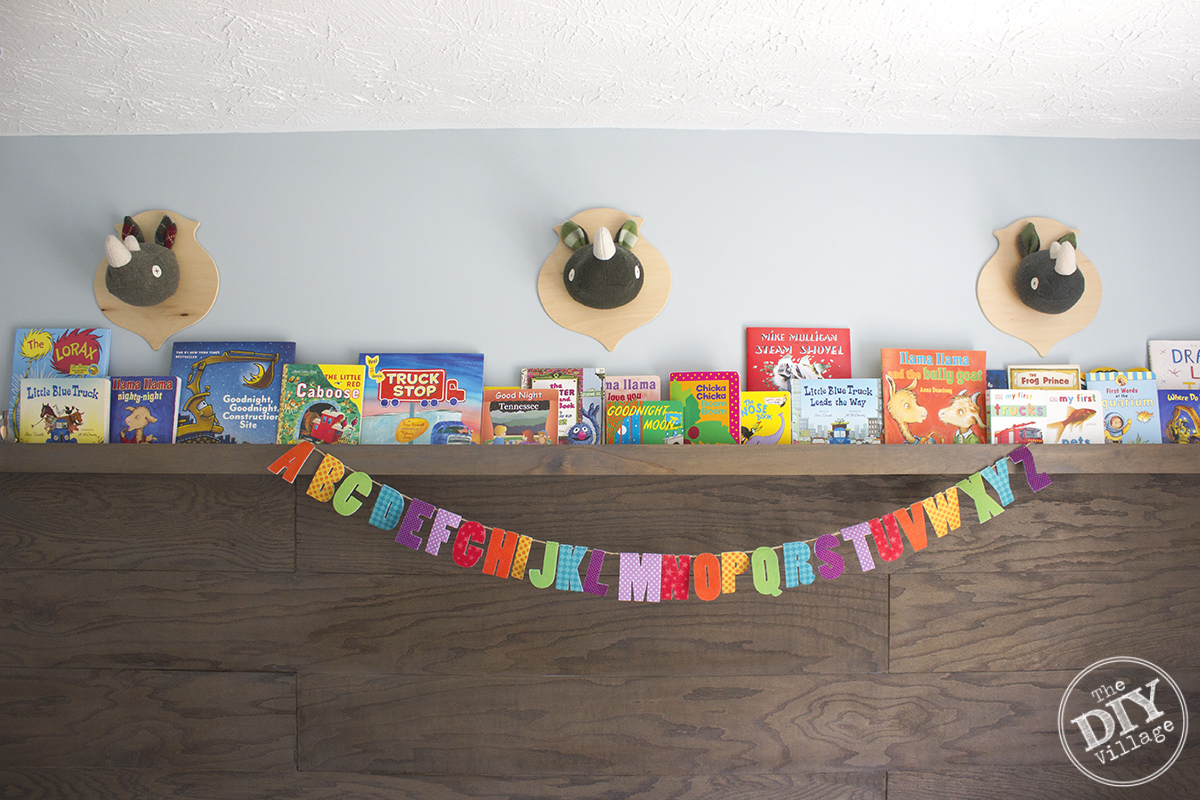 I picked up a felt alphabet banner at Target, yay Target, and hung it off center on the book ledge. They aren't currently selling this item but I'm coming up with a tutorial for how you can make your own, I'll be publishing soon, stay tuned!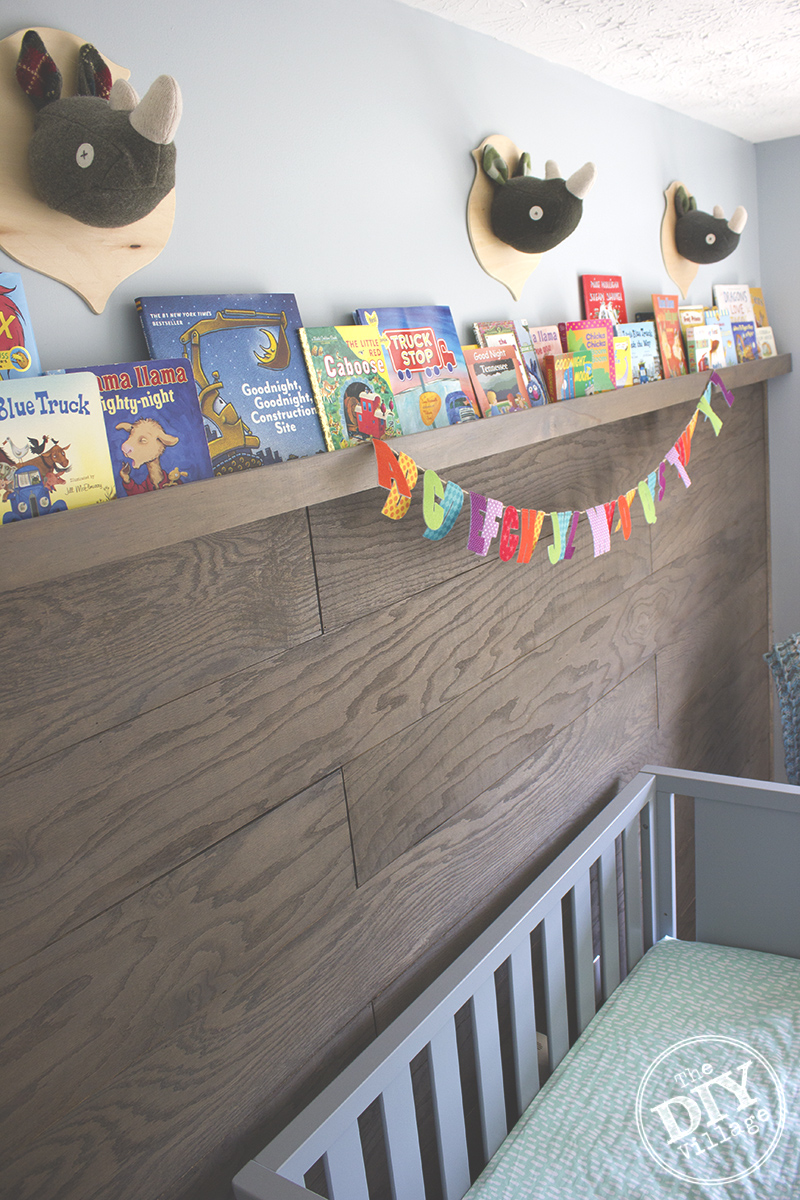 For the holidays we change Paxton's book out on the ledge. At bedtime we pick a book off the ledge snuggle up and read.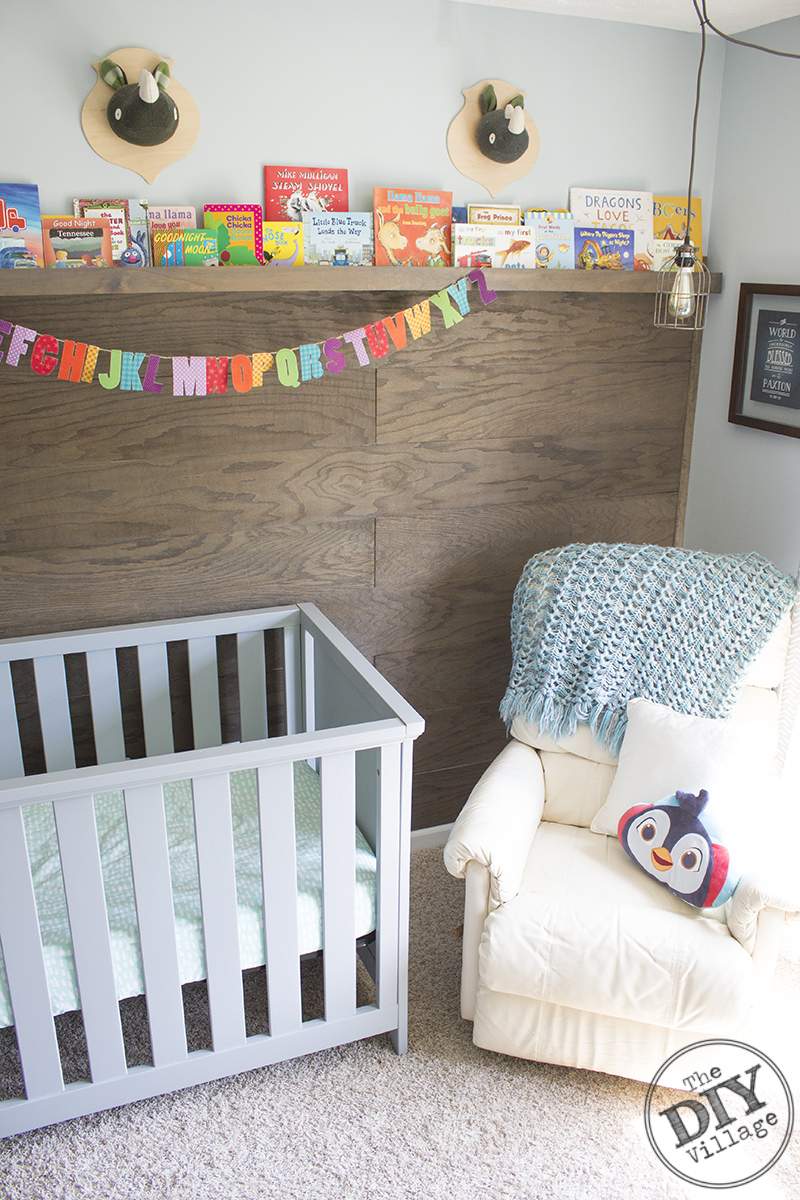 The white leather recliner was a hand me down from my grandparents house. At first I was totally against this chair but I have to admit I love it now. You, were right, Matt. At night after his bedtime bottle we recline and snuggle up. It really doesn't get any better.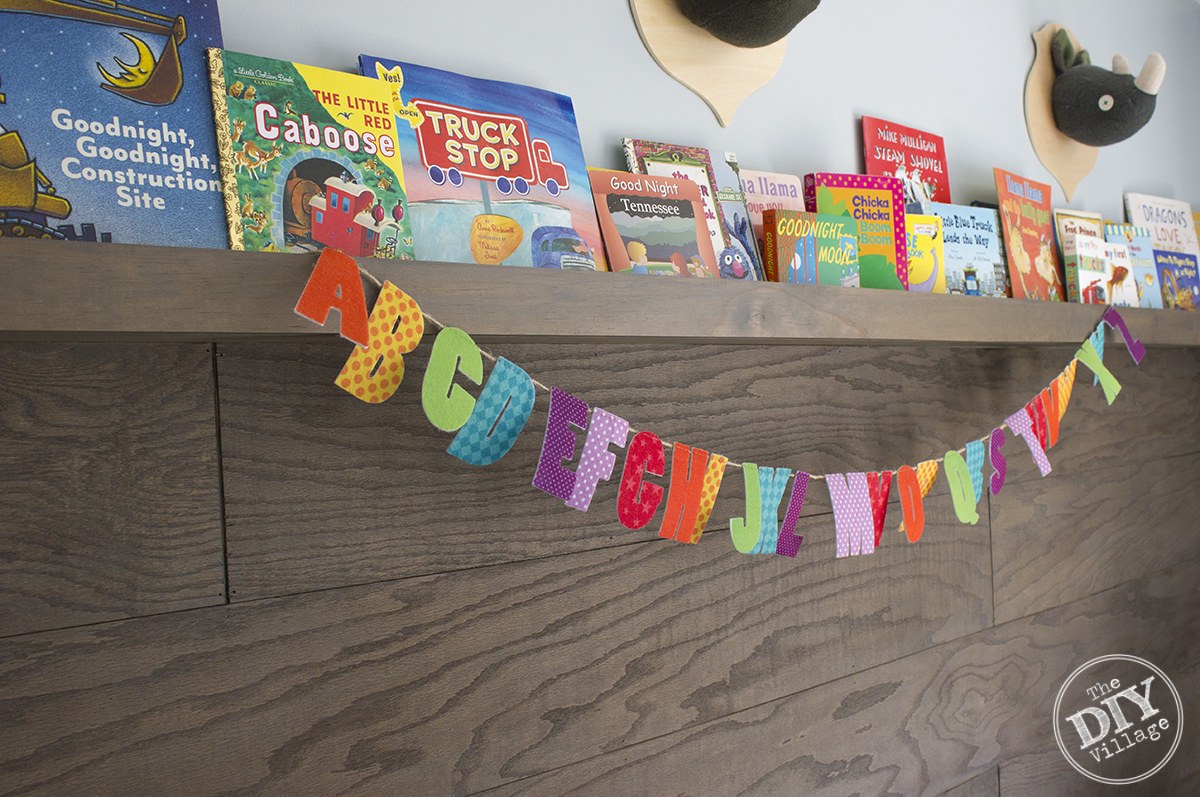 Matt's mom lovingly made a throw for his room that matches perfectly. Right now it's the only blanket he uses.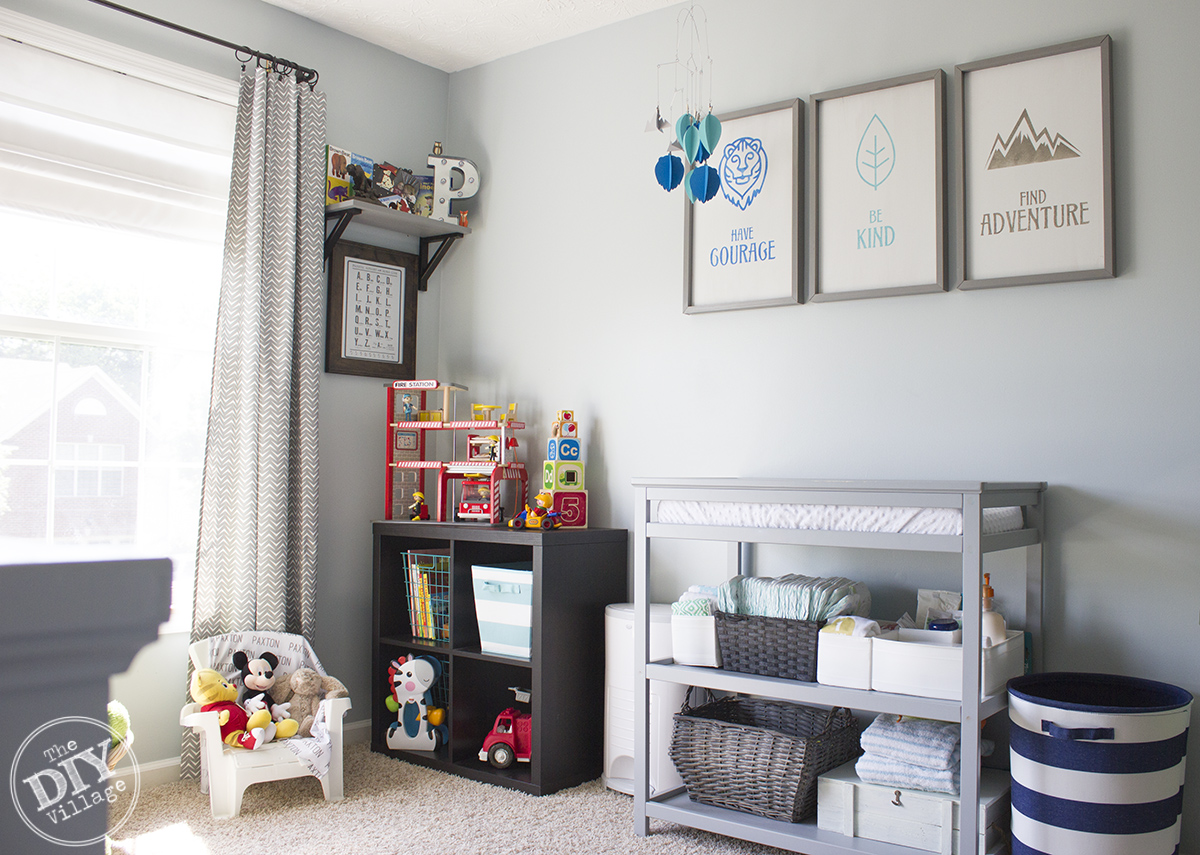 Paxton's room is not very large; 11′ x 11′ I believe. In little bits room we repurposed an old dresser into a changing table.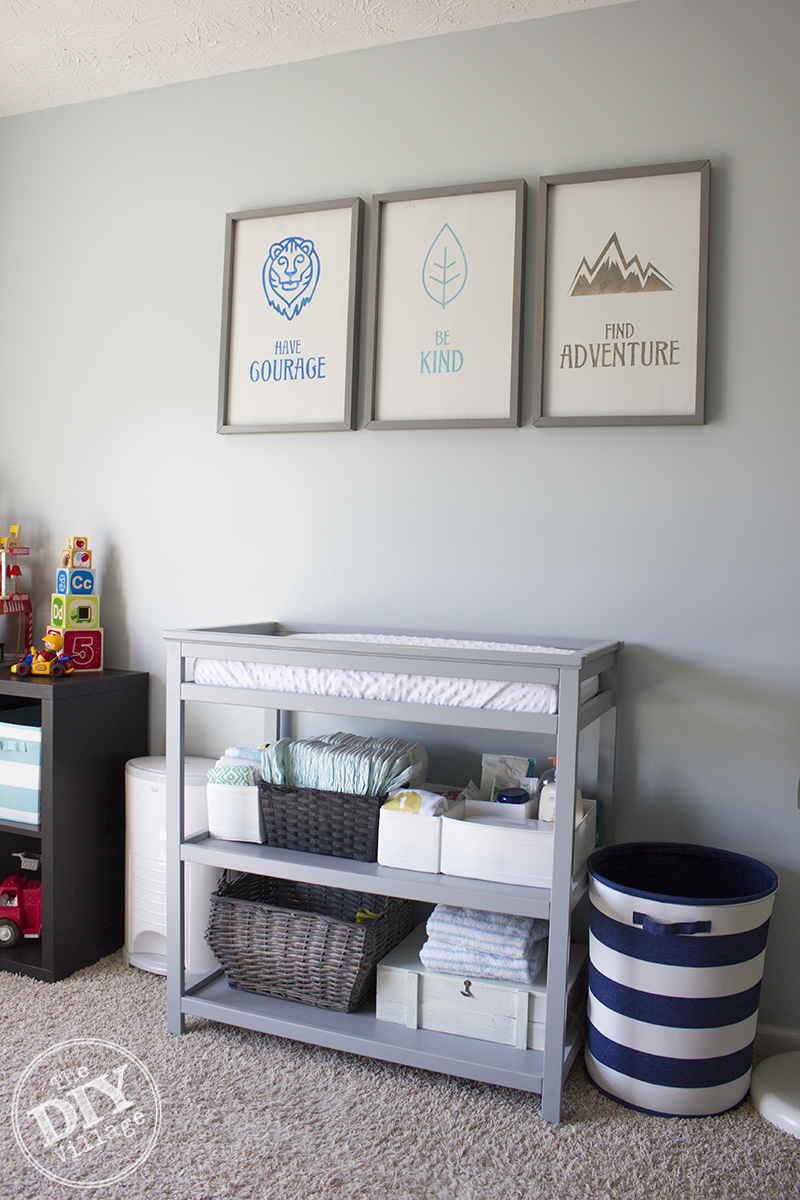 We opted for a traditional changing table in this nursery. At first I was hesitant but it really has worked out great especially with the addition of organizer bins (found HERE).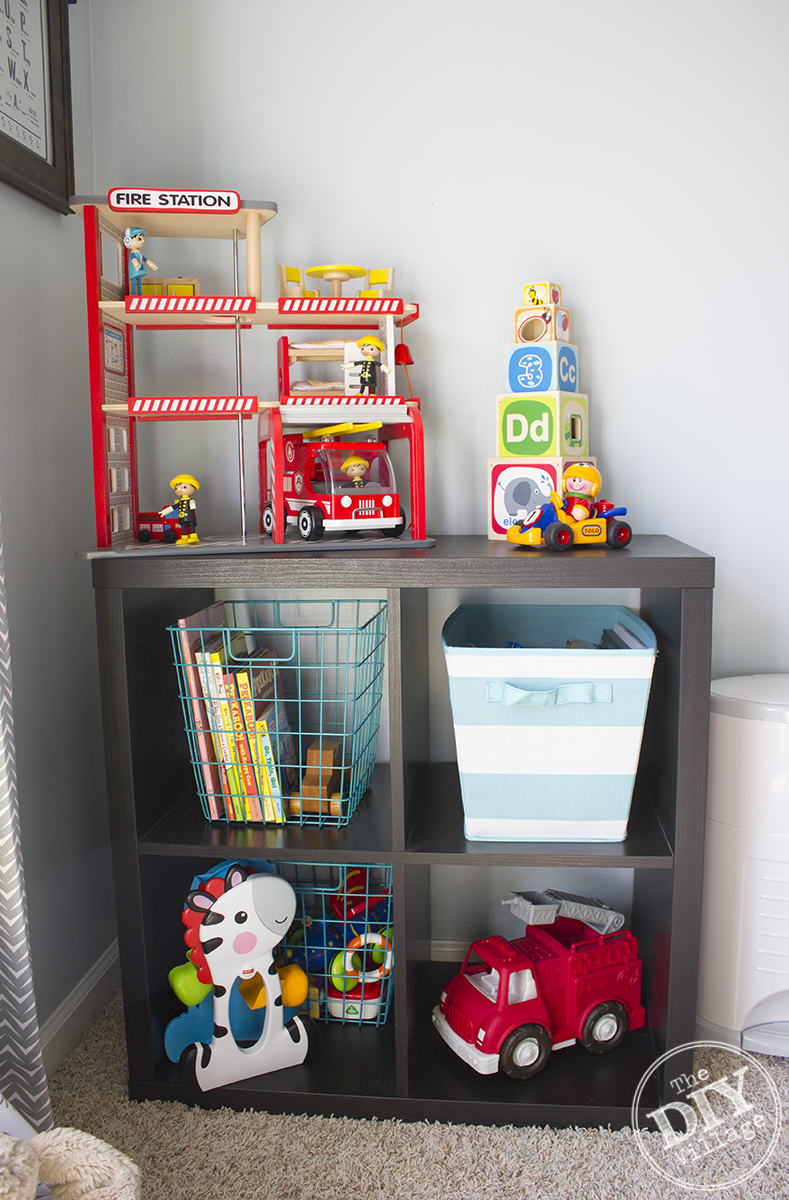 To add storage for toys we bought a 4 square storage cute (found HERE). The shelves are loaded with some of our favorite toys including the Fire Station we purchased when little bit was a baby (found HERE). We more recently added some furniture and a Fire Truck and additional fire fighters (found HERE & HERE). Good news is Joss loves playing with the Fire Station as much as Paxton does. He also loves his nesting blocks (found HERE) and his big Fire Truck (found HERE).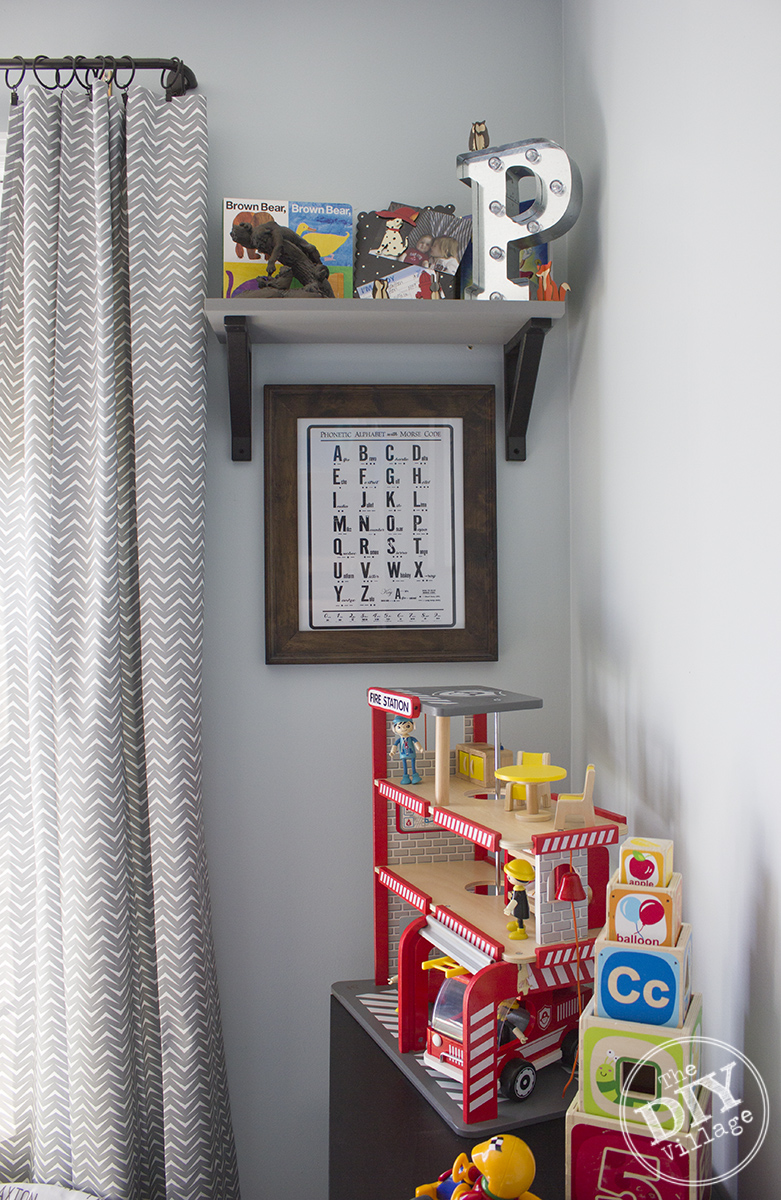 Another fun touch to Paxton's room is his Alphabet & Morse Code wall art. It was a Christmas present from Matts dad and step-mom. It's one of the first things you see when you walk in the room.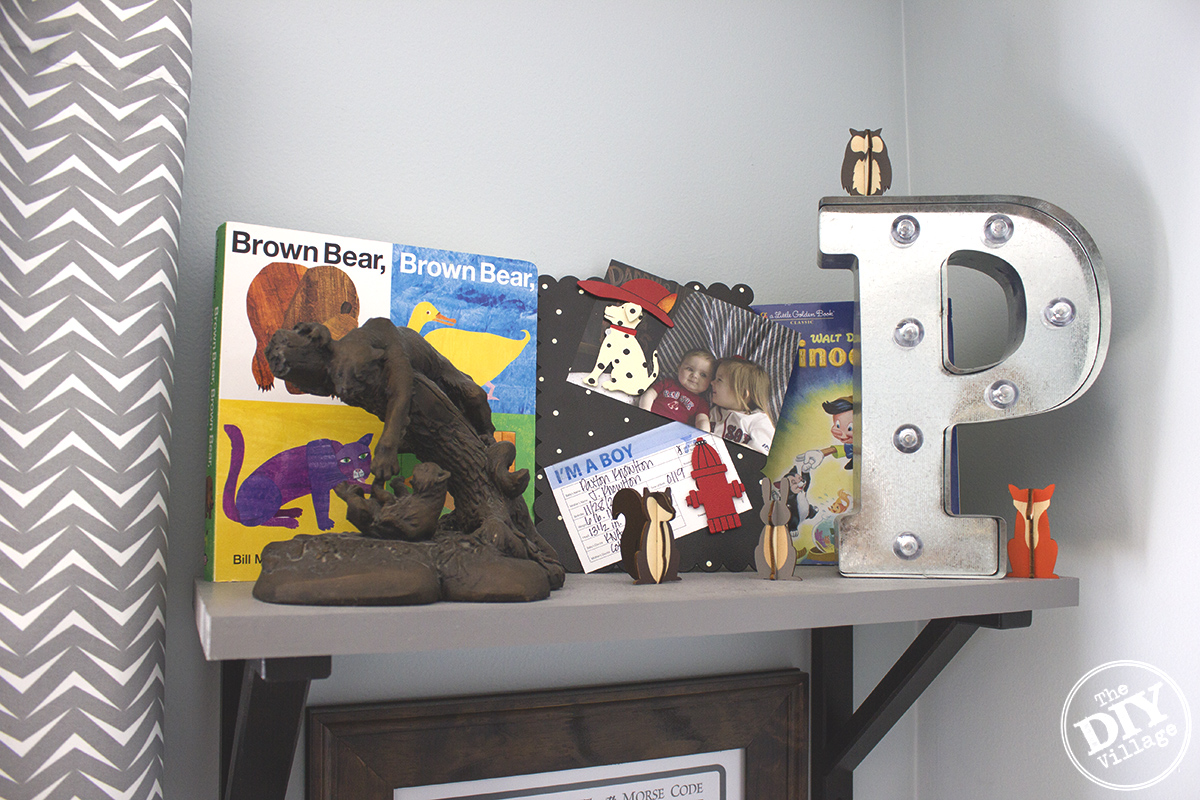 The Morse Code art is nicely framed by the shelf Matt put up, you can find the brackets HERE. Keeping with the theme he painted the shelf gray.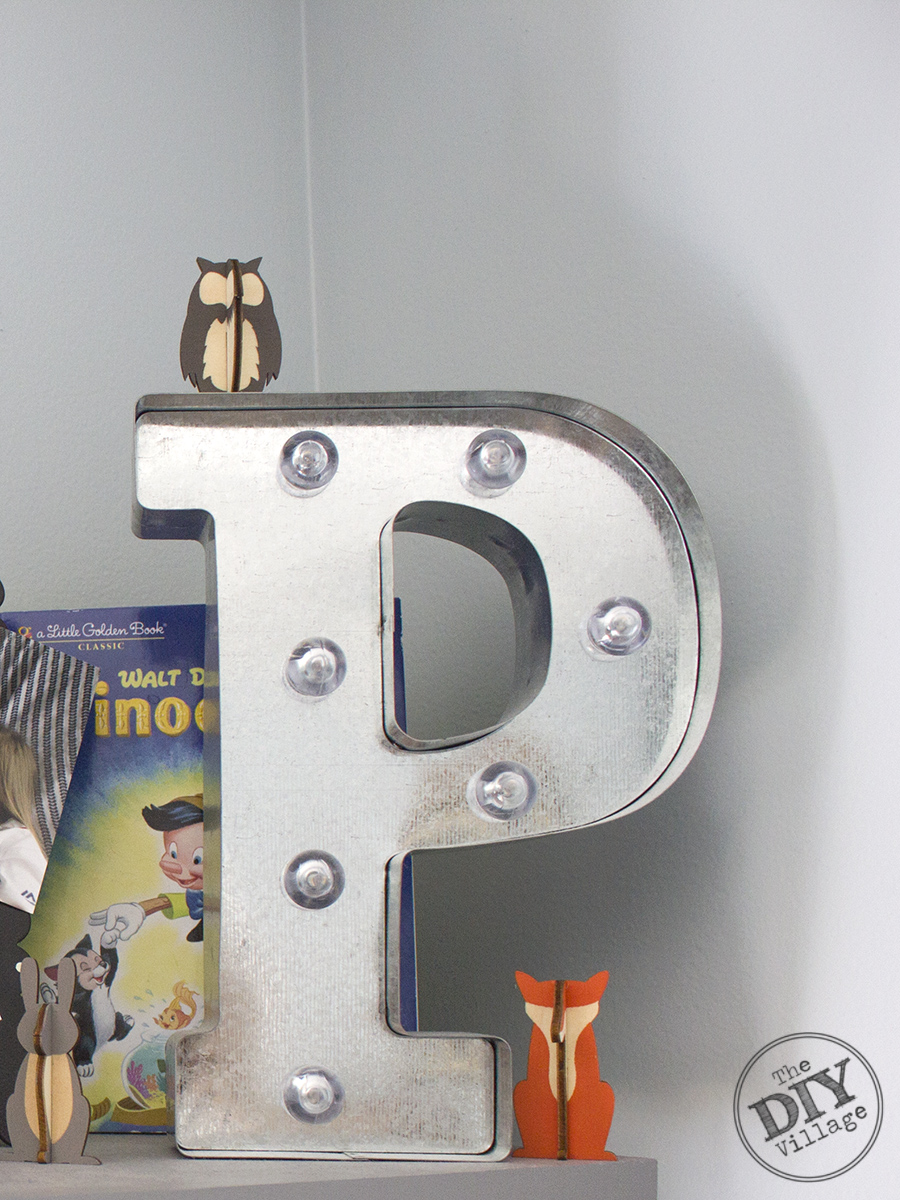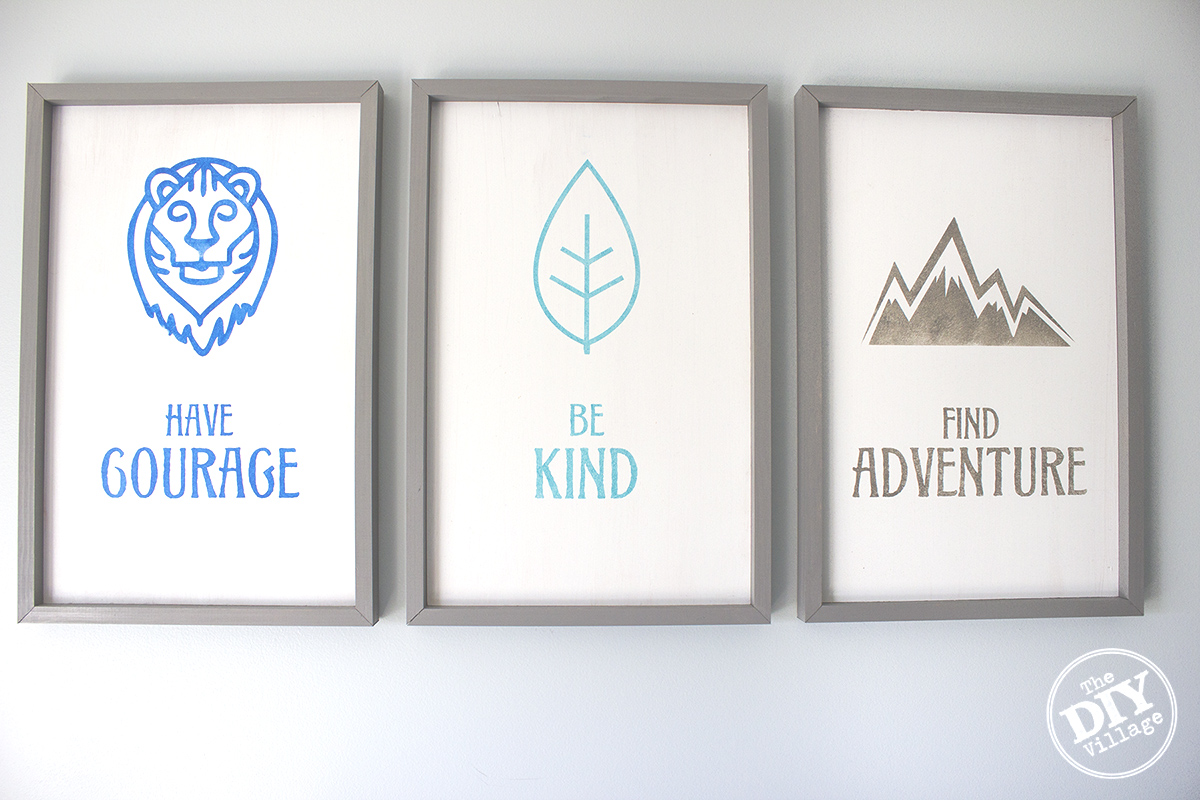 In case you missed the massive custom wall art hanging above the changing table, here's a closer look. If you think this was my brain child, you would be wrong. This was all Matt 110%. He came up with the idea, chose the words, and drew art to coordinate. I cannot tell you how much I love these. All things I want my children to stand for. Courageous, Kind, Adventurous. He built the frames using the same method as the Everyday I Love You wall art.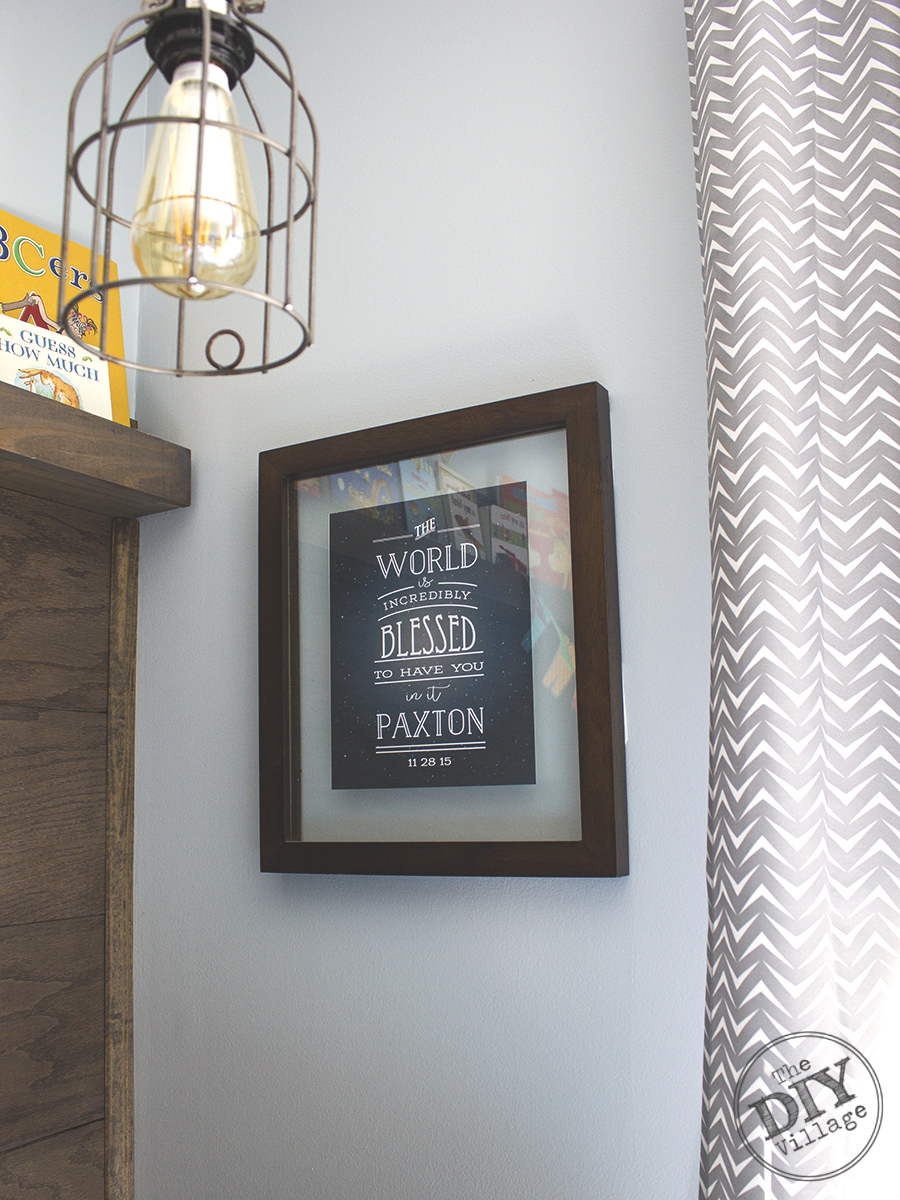 We added a vintage style light bulb, cage and cord. You can find them all HERE, HERE, & HERE.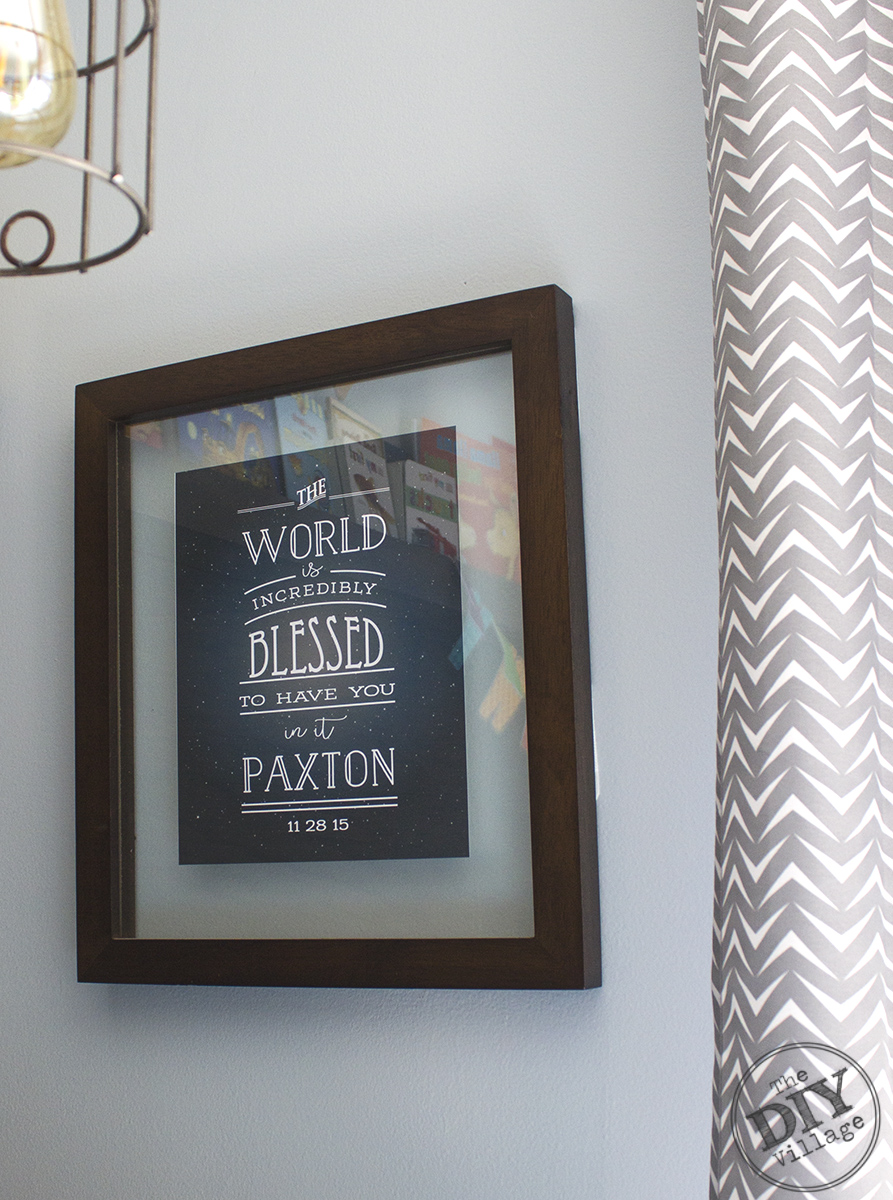 Annndddd once again Matt has outdone himself and created custom birth art welcoming Paxton into the world. I had my eyes on a few different ones but Matt easily won me over with this one. Most especially because he made it for his son.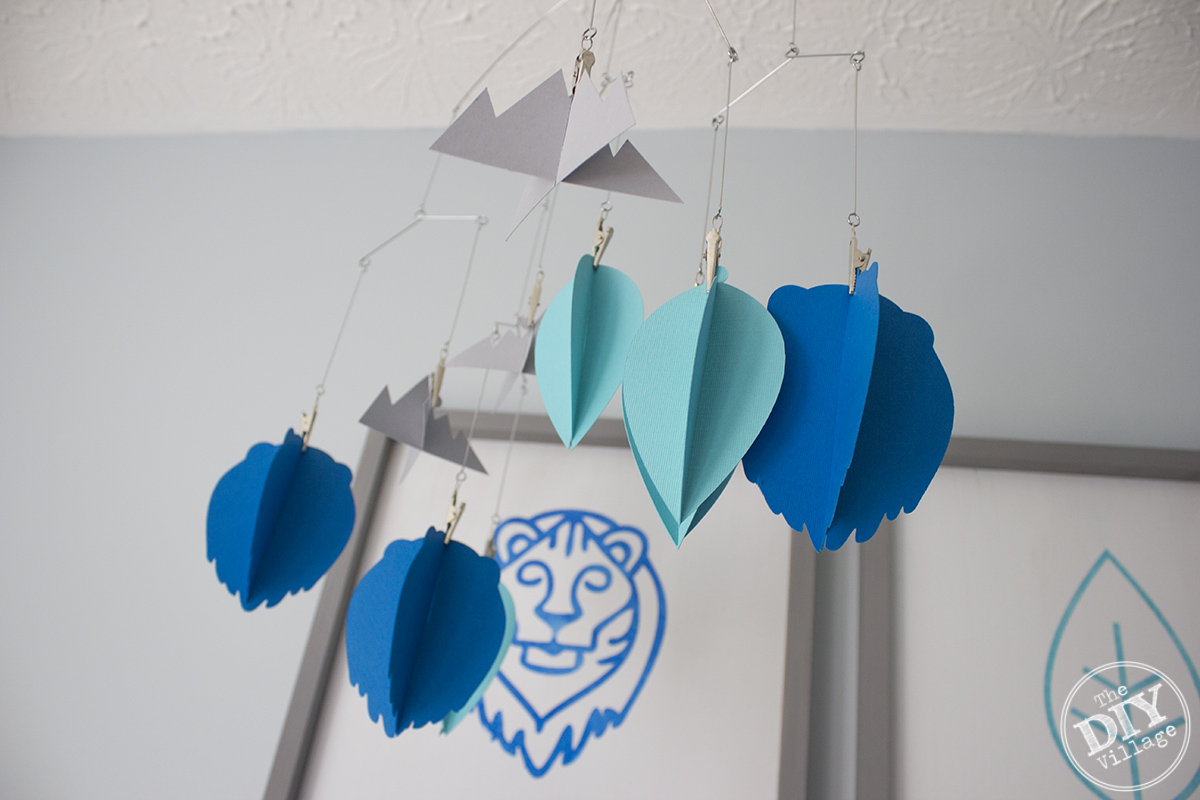 Just so you don't think I'm a total slacker, I did pick out most of the decor AND made this mobile that hangs over the changing table. The shapes mimic the designs on the wall art. All the way down to the colors. You can get the mobile holder HERE.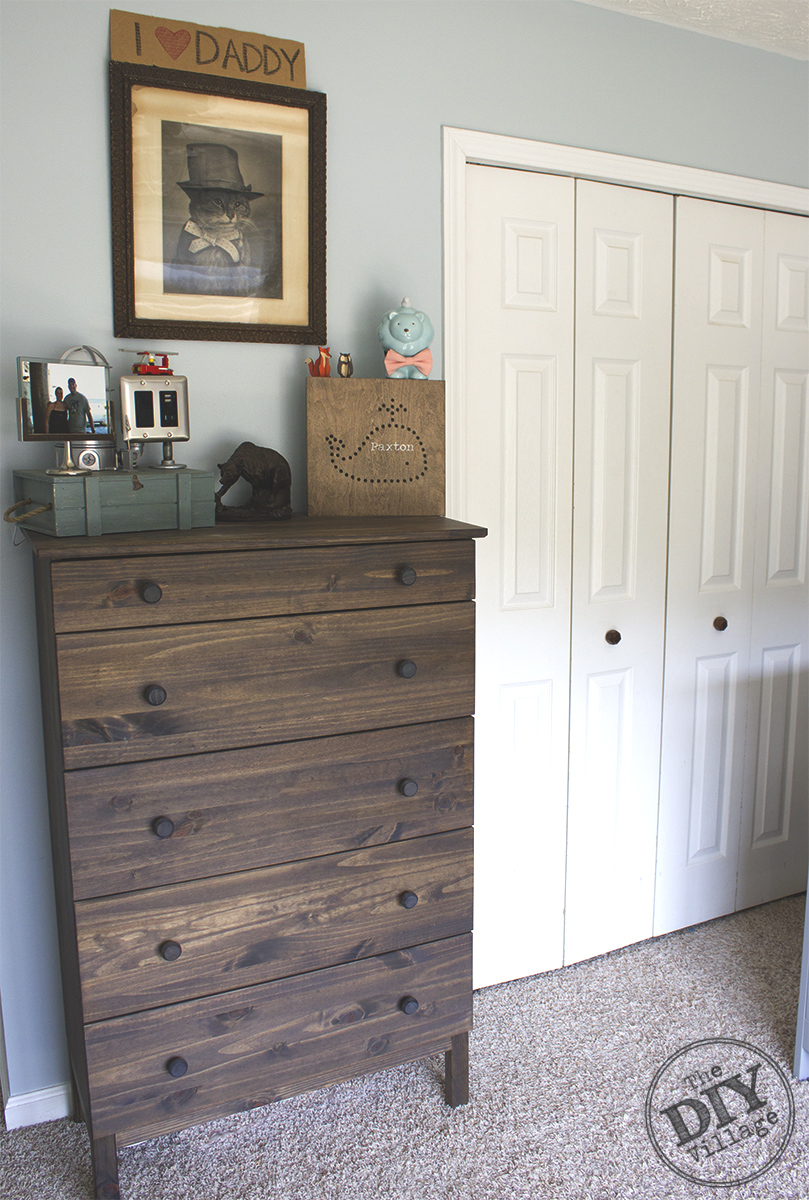 Ready for more Matt bragging? He stained the dresser to match the wall. It turned out great and has awesome wall anchors so we don't have to worry about it tipping over.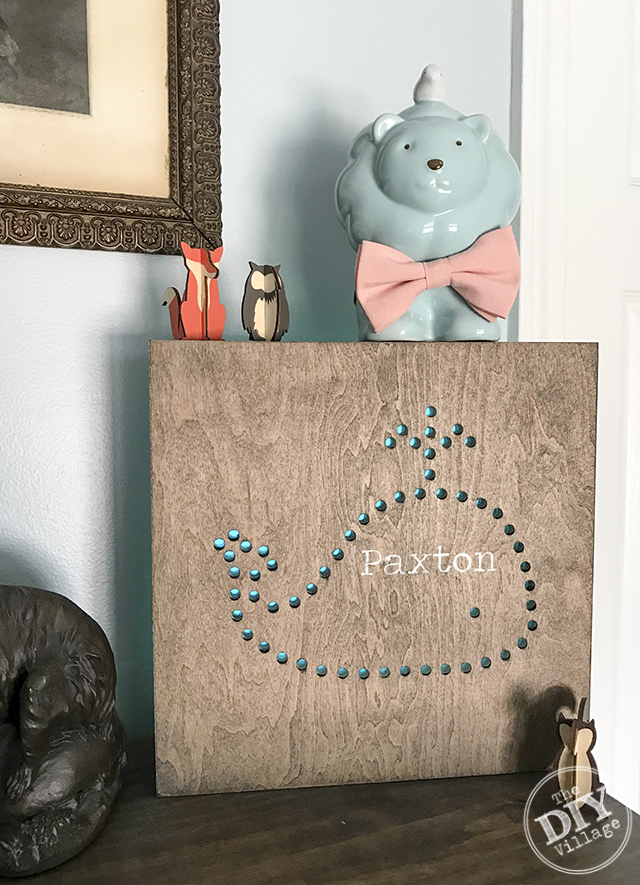 And of course he also made him a night light. It was made the same way that Jossie's LED night light was made. Only difference is that his is stained instead of painted.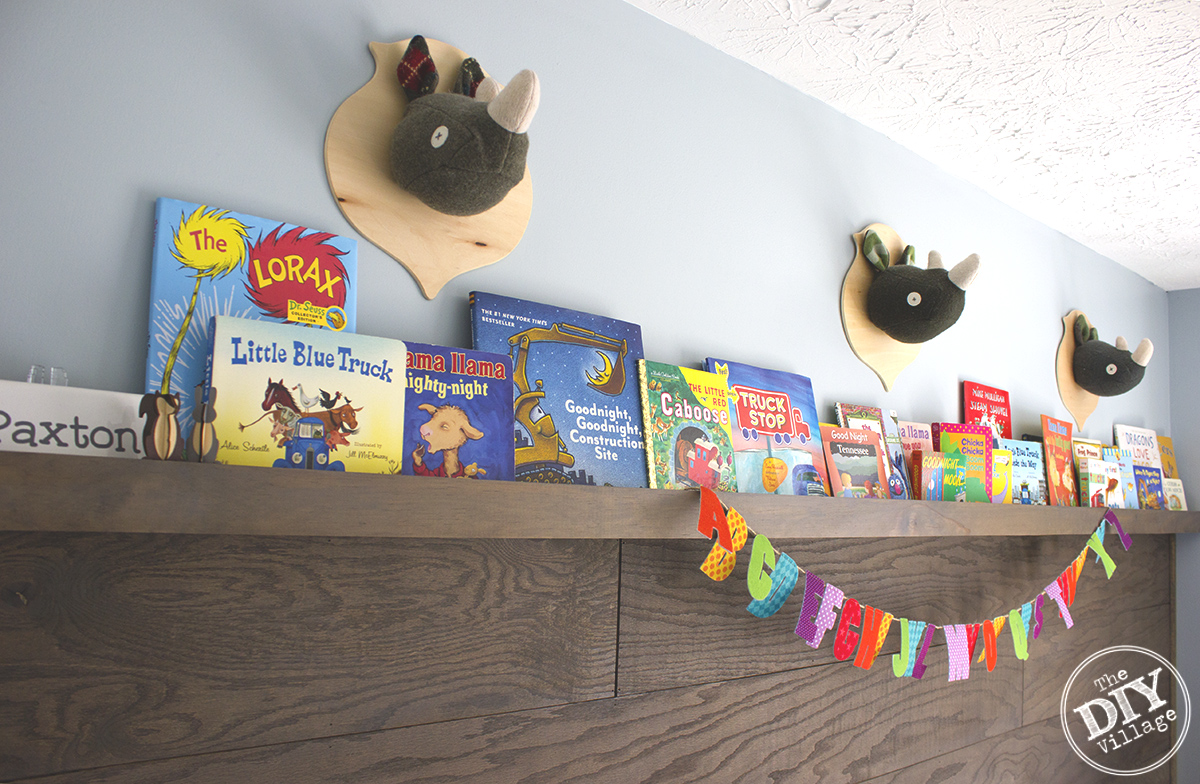 If you couldn't tell I'm pretty obsessed with this room. The book ledge is awesome, Paxton loves to point out the books he wants read every night. And don't get me started on all the custom touches in this room. All made with L.O.V.E!