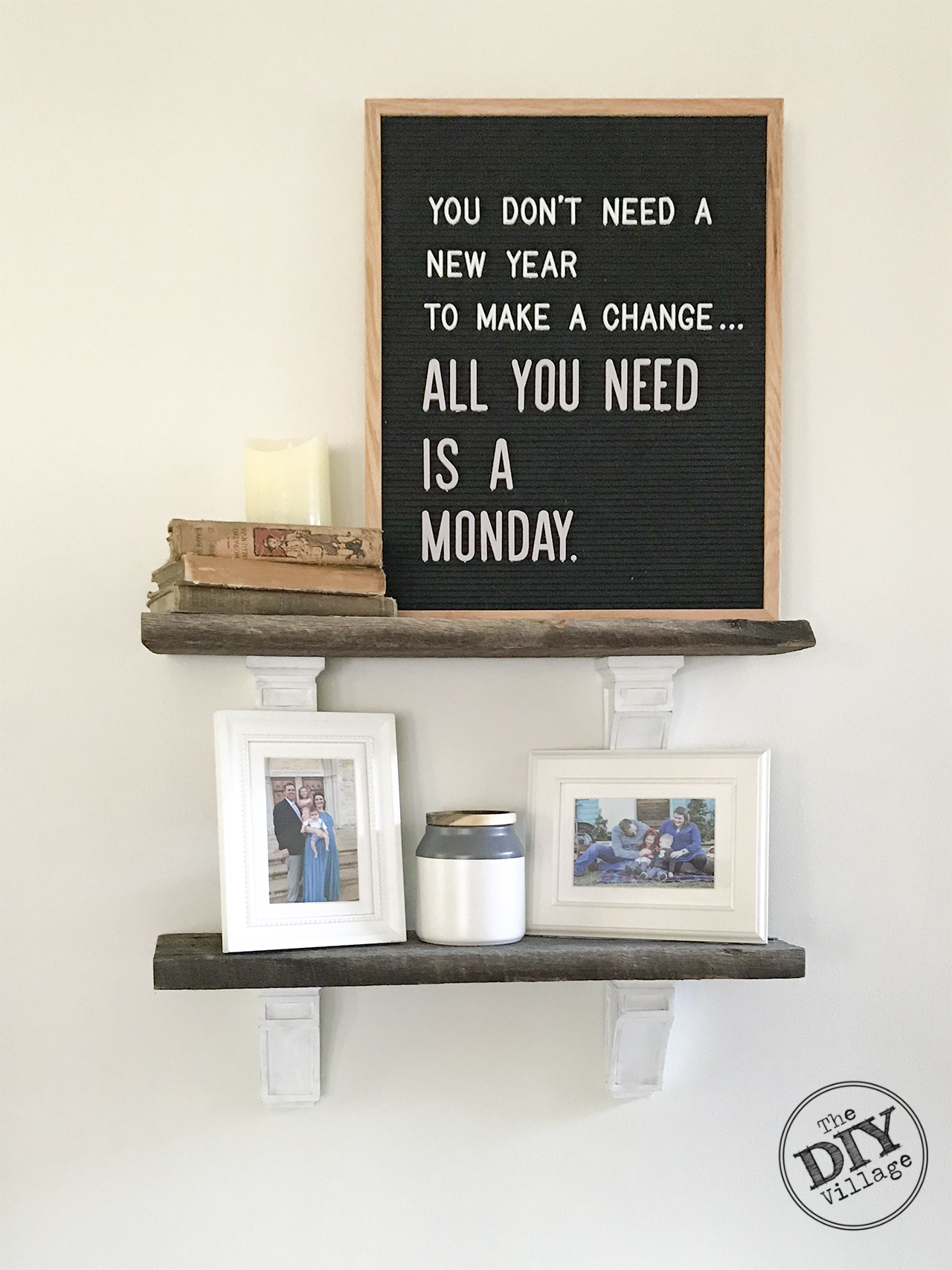 A few years ago I was very fortunate to acquire a lot of antique barnwood from a friend.  We have used the barnwood on several different projects including our reclaimed barnwood mirror, barnwood lanterns for our porch, and even a barnwood bottle opener!  I have done my best to make the best use of this barnwood.  I definitely see it as an honor to have some of this wood in my possession and am having a blast figuring out what else I can make with it.  Most recently I decided to use some corbels I have had for a while and combine with them with the rustic barnwood and create a set of barnwood shelves for our family room.  Nothing fancy, just something to display a few photos and what not on.
The goal is to be thrifty and use what I already have laying around to decorate our home.  But don't worry this isn't going to be the only thrifty idea I share with you today.  Make sure to scroll down to through the entire post to see other Thrifty decorating ideas included in this post from 13 talented home decor and DIY bloggers.
I started by cleaning off the barnwood with a damp rag.  I didn't want to loose any of the charm that comes with an old weathered board like this.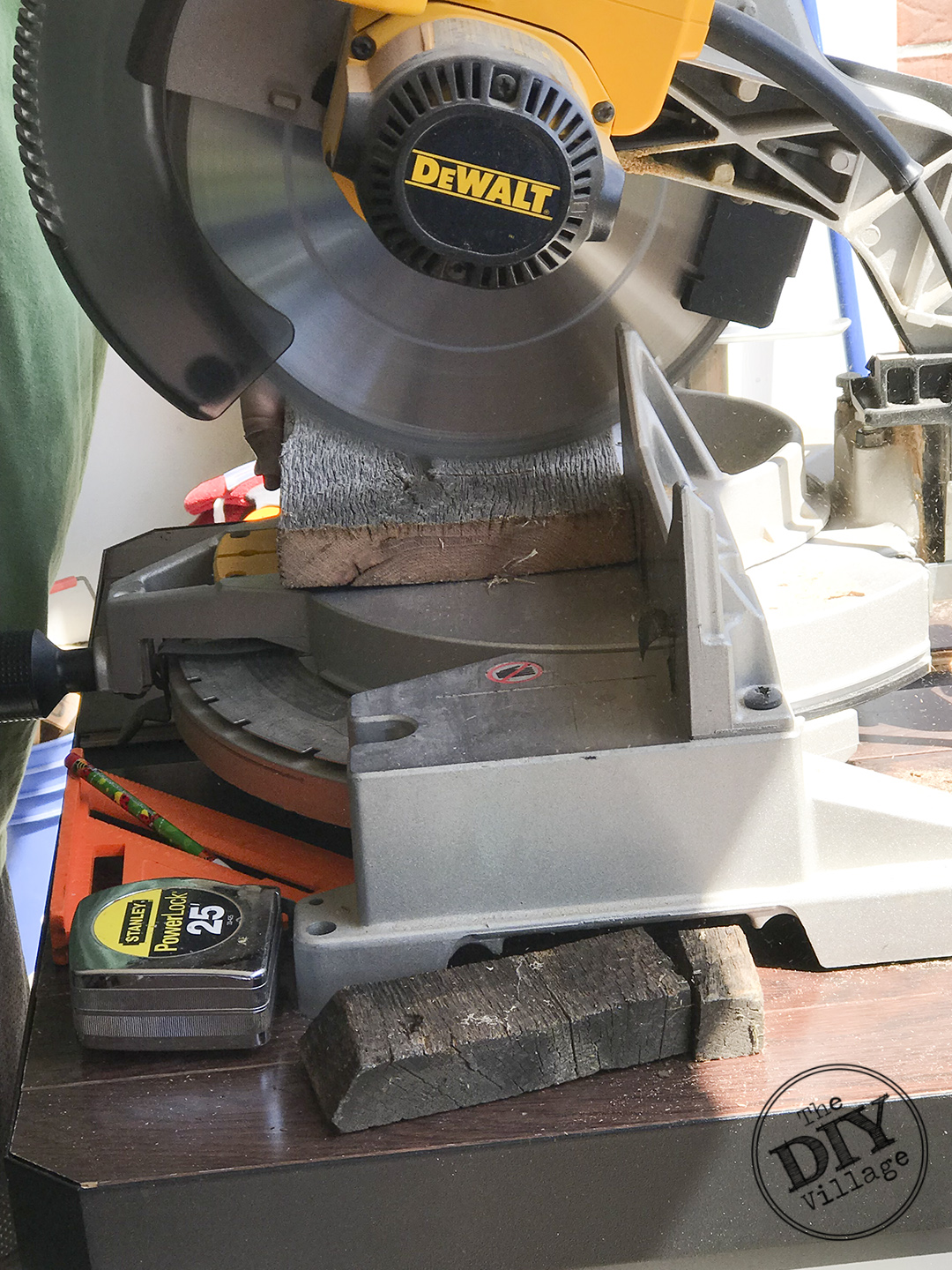 After some quick measurements Matt trimmed the boards down for me.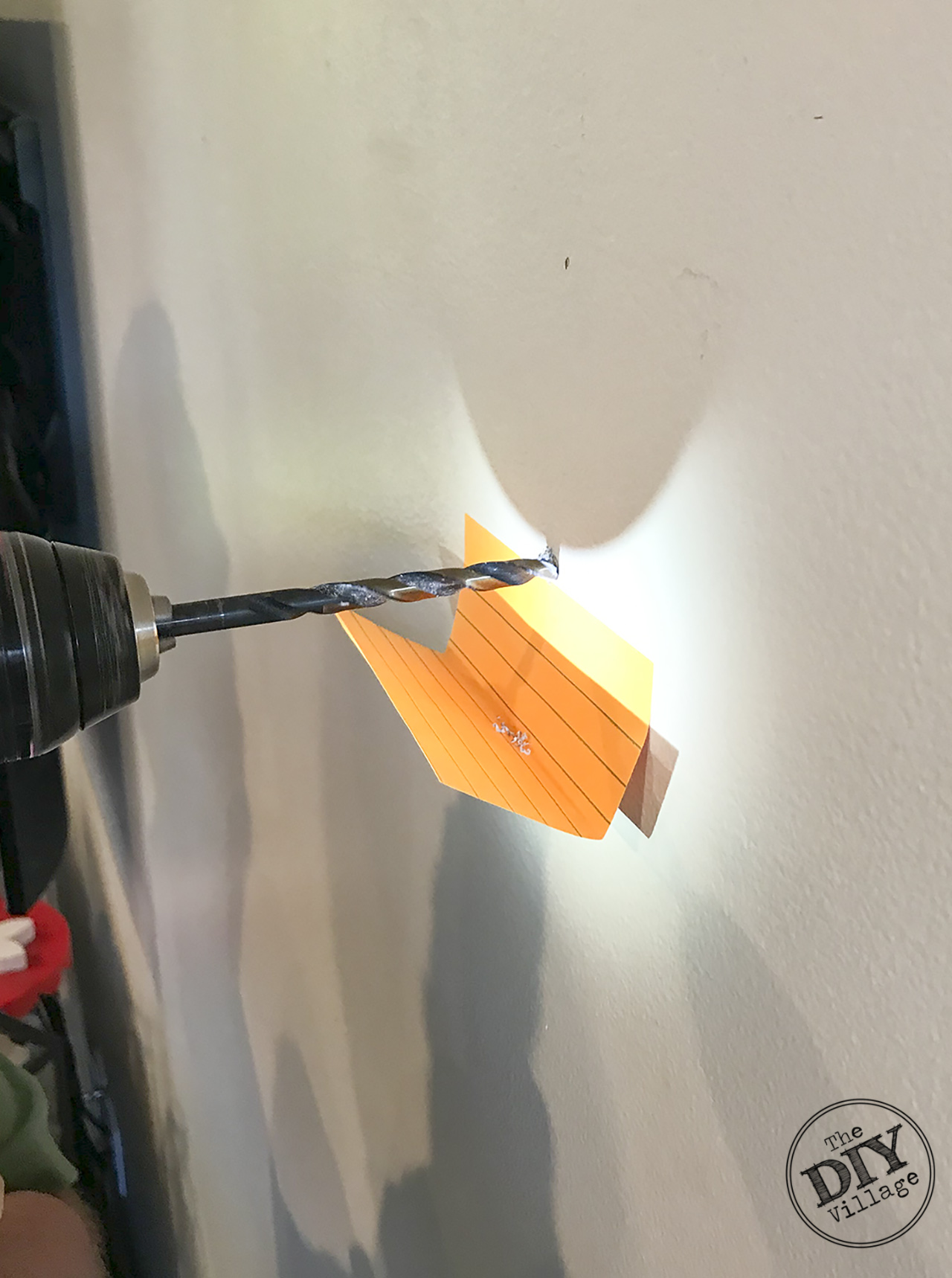 After the boards were trimmed Matt helped me hang the shelves.
PRO TIP:  Attach a sticky note to the wall under where you will be pre-drilling your holes.  This will catch any drywall debris before it can get on your floor and baseboards.  Once you are done drilling remove the note, fold, and throw away!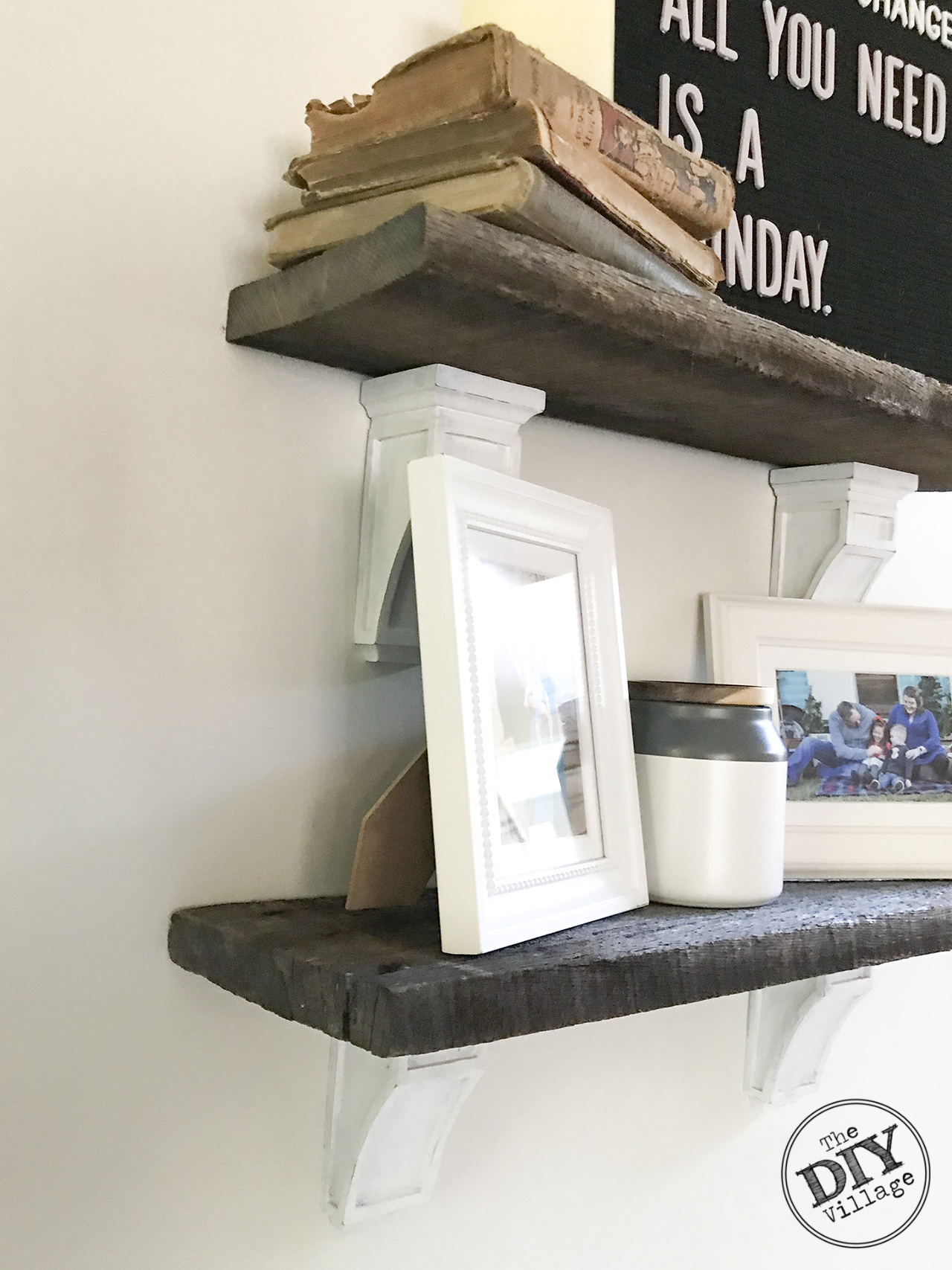 Because we were shortening the length of the plank I had to be creative with how I matched the end grain to the 100 year old weathered wood.  The match was achieved by creating a paint wash.  You could most likely do the same thing with stain but paint dries so much faster.  I mixed gray, black, and brown painted it on the end grain then brushed over it with a very wet paint brush.  That blended the colors together nicely.  Let it set for a few seconds and then wipe off with a paper towel or rag.  It's fairly simple but you would never know it was fresh paint without me telling you.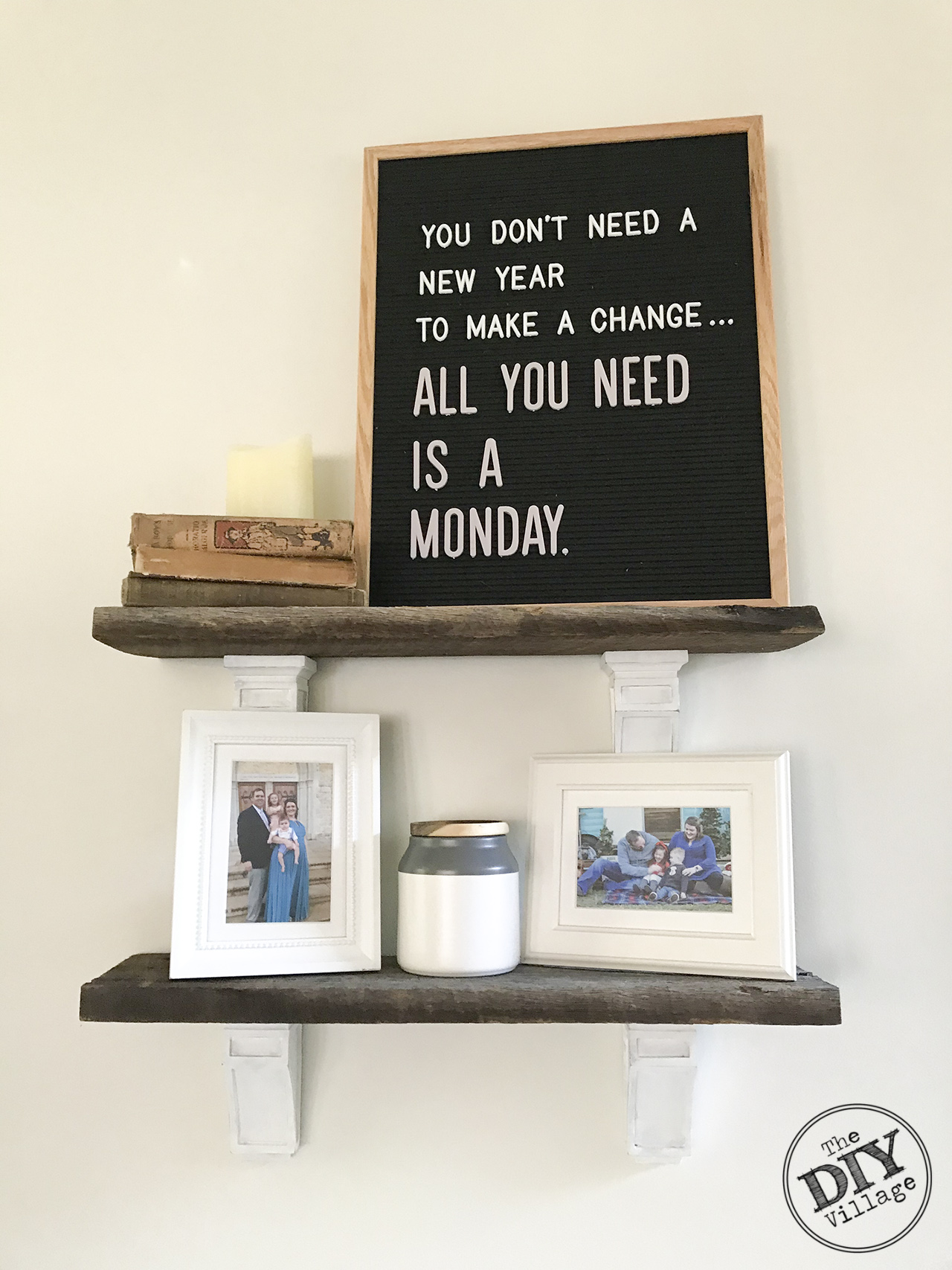 The shelves turned out great and is the perfect place to display our family pictures.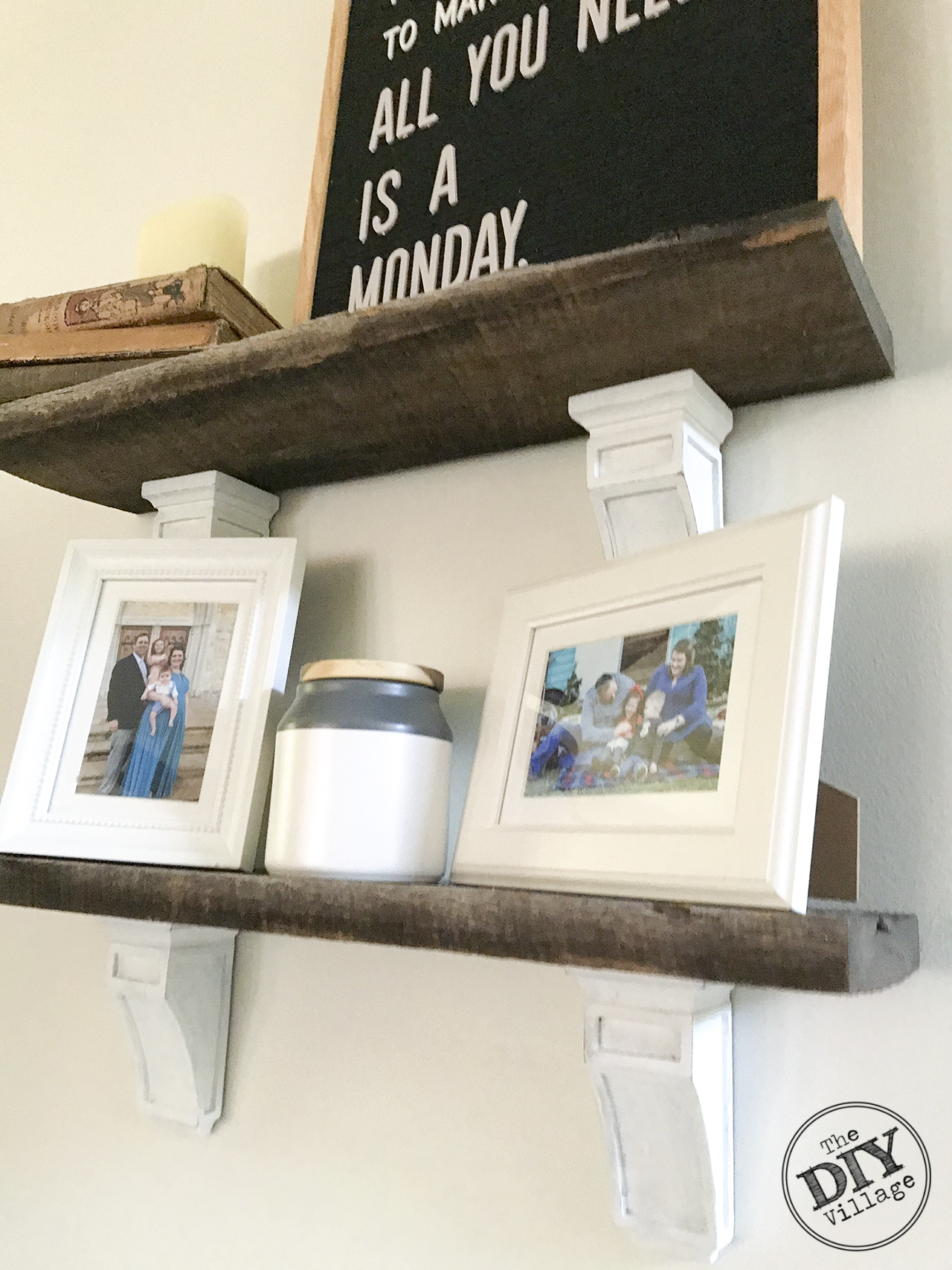 I may add some distressing to the corbels so they don't stand out so much, but for now I am pleased and loving this new addition to our home.
Do you love thrifty ideas like this?  I hope so because there are 13 other awesome ideas just below waiting for you to discover!  Take a look, and be inspired!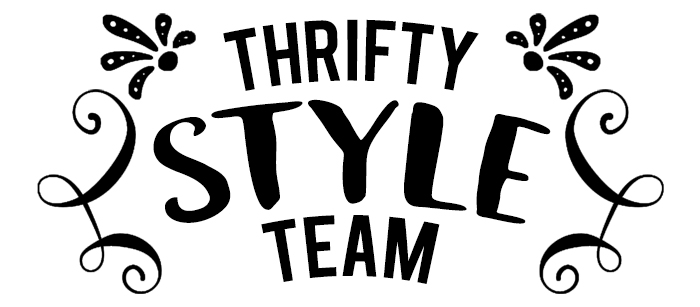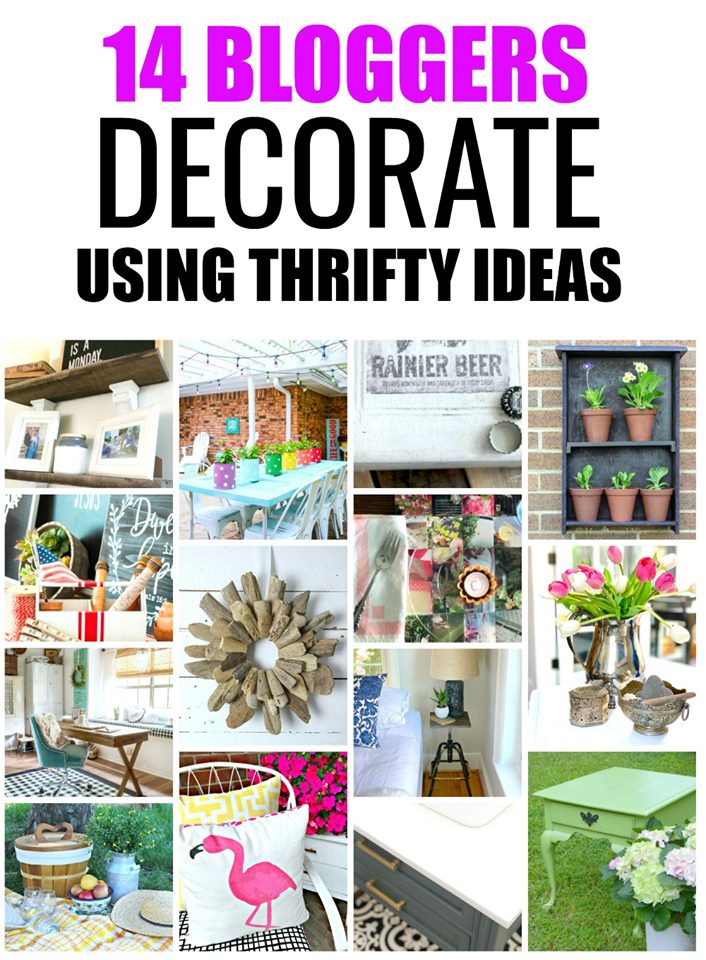 Thrifty Yellow and Pink Spring Porch by Redhead Can Decorate
Rustic Shiplap-Inspired Wall Art by The Creek Line House
Ideas on How to Update a 15 Year Old Bathroom Vanity by Duke Manor Farm
Make an Auricula Theatre – Thrifty Style by Heart and Vine
Window Seat Refresh by DIY Beautify
Green Painted Outdoor Table by Cottage at the Crossroads
Patio Decorating Ideas on a Budget by I Should Be Mopping the Floor
Vintage Box Makeover by Bliss Ranch
Easy DIY Nightstand From a Thrift Store Stool by Chatfield Court
Decorating with Thrifted Silver by 2 Bees in a Pod
DIY Grain Sack Striped Farmhouse Tote by The How-To How
Thrifted Picnic Basket Makeover by Salvage Sister & Mister
DIY Magazine Page Place Mats by What Meegan Makes
100 Year Old Barnwood Shelves by The DIY Village