In our house we have a thing for Christmas trees.
We LOVE them.
In fact we have 8 trees in our house and the number seems to be growing!
Our main tree is in our family room and sits right next to our Pottery Barn Inspired Santa.

This tree was my grandparents.
It's about 30 years old now, flocking and all!
I was a little concerned that Matt wouldn't like my white tree when we got married but lucky for me he loves it as much as I do!
Well we love the tree, just not the trail of flocking we have to clean up each year when we put the tree up!  You can find a similar one HERE.
It's full of ornaments that mean something to us.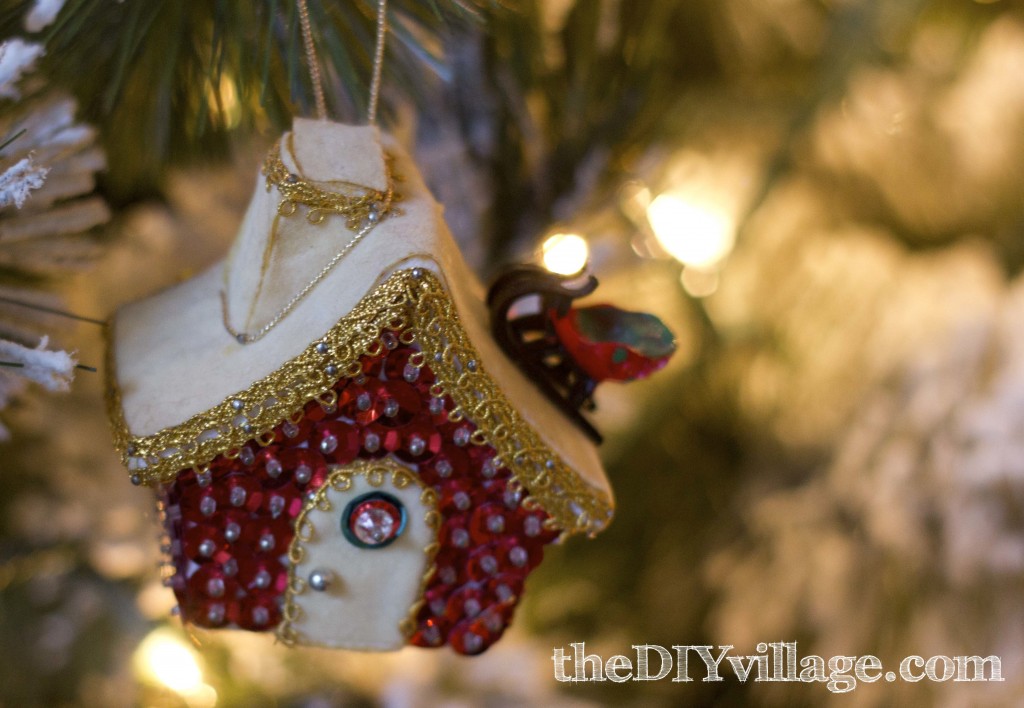 I have some great ornaments us grandkids made for my grandparents tree wayy back when.
Ones that make us laugh "I've been kissed by a dog!"  
I love playing this ornament!  You can find your own HERE.
And ornaments that share feelings about the Christmas Season.
Our dining room forest is on a much smaller scale … well kinda.
Our small tree collection started with a small ceramic tree that used to be long to Matts grandparents.
Isn't it great?
Matt's mom was going to donate it and I snatched it up!
Last fall we found this pretty white tree at an antique mall and added it to our collection.  You can find new ceramic trees for sale HERE.
There are a few other trees in the house but I think I might just save those for next year!
How many trees does your house have?
Want to see more Christmas Decor at theDIYvillage?
Check out our West Elm Knock-off Nutcrackers
Our Christmas Garland
And our Christmas Mantel