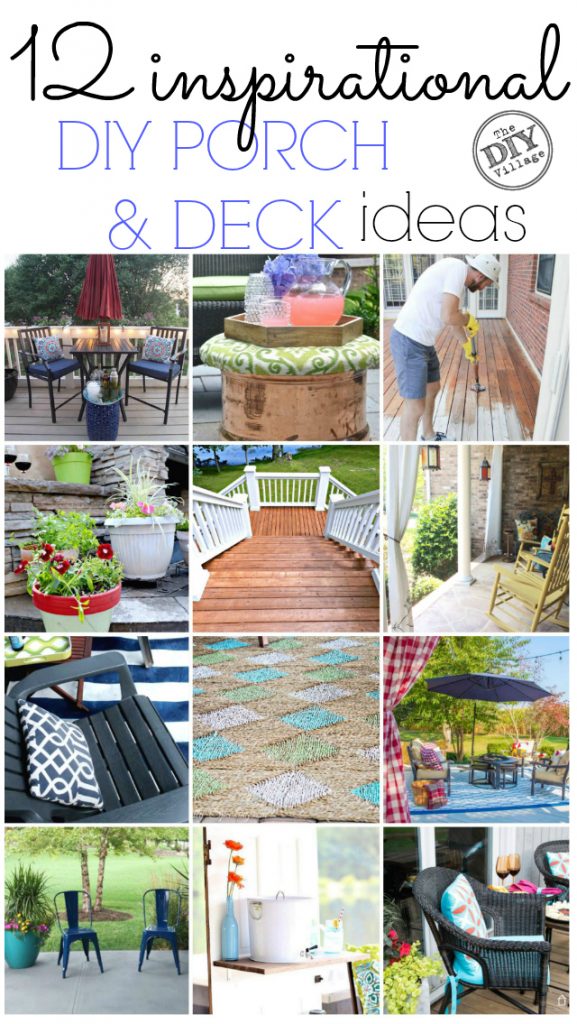 Hello July! Hello hot summer nights, fireworks, night swims out of necessity, and thoughts of projects put off just a tad too long.  While relaxing on the beach a few weeks ago the harsh reality hit me that the deck Matt and I had discussed extending late this winter never happened.  At this point if it was going to happen it's going to happen in the misery of the summer.  The Dog days of Summer.  Lord help us all I am not cut out for this.  If you didn't know, I'm chubby, and chubby people can't do this heat and humidity.  We just can't hang! My intent is to get some DIY projects knocked off the ever growing Never Ending Honey-Do List.  Lucky for Matt I'm too tired to actually update the list most days and usually forget the projects I want to add.
In honor of indoor projects myself and the other 11 ladies with the DIY Housewives are sharing 12 inspirational DIY Porch, Deck ideas … oh yes and of course our lovely Patios ;).  12 Ideas that will keep you busy ALL summer long … don't hate me.  We have a habit of updating our deck we first updated it
HERE
, and then again
HERE,
and then again
HERE
.  I'm sure you weren't too shocked when I mentioned we wanted to expand it to make it larger?  Yeah, I didn't figure you were.  Time for the super inspirational talk to get you ready to go.  You can do this, you OWN this DIY project.  These are just inspiration projects, your project will be 100% better than these ever thought about being.  You will have this done in no time! Okay okay just kidding, I'm totally bribing my husband with ribs, beer, and ice cream so I don't have to get hot.  No clue why I'm even acting like I am doing any of this.  Shew, so glad I got that off my back.  Now that that is out of the way let's get to the good stuff, it's inspiration time!  Drumroll ………………..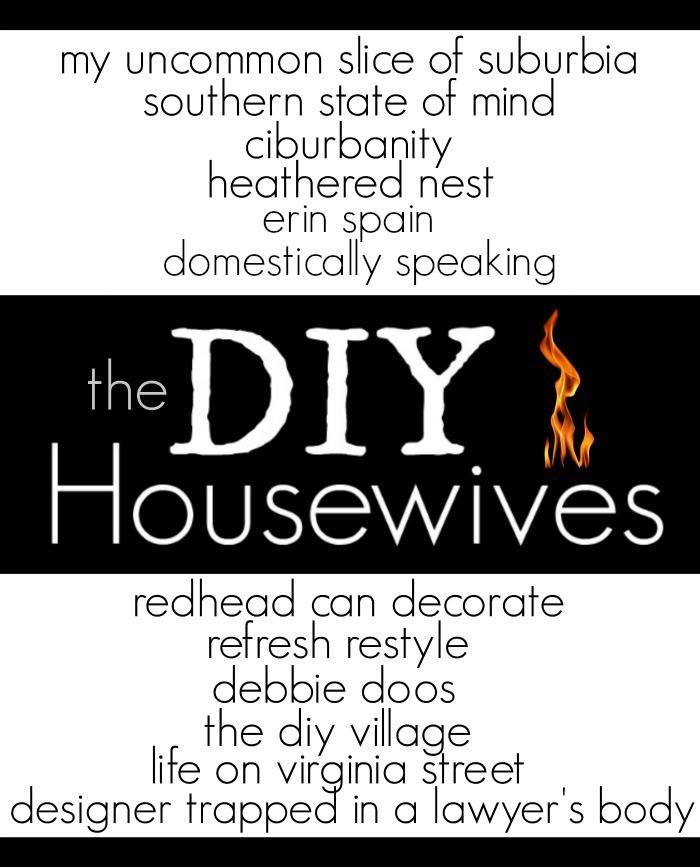 My Uncommon Slice of Suburbia**Southern State of Mind**Ciburbanity
Heathered Nest**Erin Spain**Domestically Speaking
Redhead Can Decorate**Refresh Restyle**Debbie Doos**The DIY Village
Life on Virginia Street**Designer Trapped in a Lawyer's Body
Looking for more Deck, Patio or Porch Projects?

 
Check out these from some of my favorite Bloggers:
Easy Patio Makeover – Two Twenty One
Make a Patio Look New for Less Than $ 100 -Ugly Duckling House
DIY Louvered A/C Screen – The Kim Six Fix
Creating an Outdoor Living Space – The DIY Village
Amazing Patio Planters – Two Twenty One
How to Hide a AC Unit – Ugly Duckling House
Updating your Outdoor Space on a Budget – The DIY Village